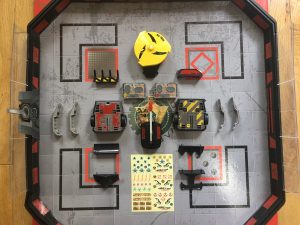 Being co-host of Robots Live! I have heard the same question time and time again "Why arethere no Robot Wars toys" luckily for me, thanks to Hexbug, I won't be getting that question ever again!
Their brand new Robot Wars Arena is the current flag ship of the Hexbug Robot Wars range. Having learnt a lot from their Battle-Bots line (The USA's version of Robot Wars) the toy manufacturer has filled a need in the market and then some! The arena in question requires some assembly but once you've erected the sturdy plastic sides and stuck on a few details,
you're ready for in-house robot mayhem!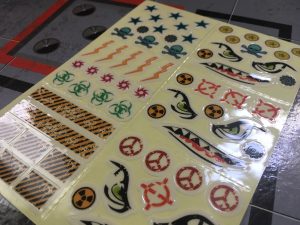 The two packaged bots are a wonderful blank canvas on which you can clip, stick and lock-in over 10 accessories including spinning disks, battering rams, axes and decals. Most impressive are the dinky controllers which afford budding roboteers a surprising amount of control.
Downsides include the price. At £79.00 you might find the fun runs dry a little too soon but kids are sure to find new challenges to test their customised machines; and if you look at it as £40 per child the price might not smart too much. Hexbug have pre-empted my other complaint as they have launched add-on packs that bring in much needed flipper weapons!
These are sure to bring in a new element as watching a tiny plastic axe pointlessly tap away as a spinner fails to cause any damage grows old fast. This arena from Hexbug is a great, if overpriced, start to their Robot Wars line. With rumours of them bringing in actual, recognisable bots from the show you'll soon be able to forget the pain of the BBC cancelling the Robot Wars show! Still, you could always come and watch Robots Live! Please do, I love the attention.