Since Hasbro sent us a care package (see here) we've been having some hands on time with the three titular Beast Morphin' rangers. Since the Lightning collection was announced, I had presumed that the range of action figures aimed at the younger crowd may lack in details and articulation. I'm glad to report that these concern were totally unfounded and Hasbro has created a line that is brimming with quality at a bargain price. £9.99 for all this? Yes please!
Firstly, details. The moulding on all of the rangers is highly impressive, morphers, belts, straps, helmets all have their on screen counterparts realised in fine detail. Granted certain aspects such as the shoulder harnesses could have used some paint but the crucial items are covered. Most noteworthy is the creases and crinkle in the ranger's jacket
Paint is mostly a success. The helmets are wonderfully realised and the colour match on the different plastics is spot on. A couple of sloppy paint splashes here and there but on my trio, no deal breakers. As with the purchasing of all action figures, it's best to buy in person so you can sift through the shelves to find a perfect one.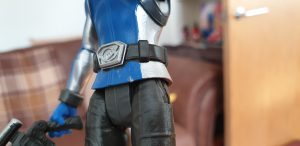 Pose-ability is rather respectable. Each ranger has knee, hip shoulder & elbow bends and swivels. The head is on a bobble but can be limited by the helmet design. The hips do get restricted by the odd design choice for the male ranger's posterior as it is a slid immovable piece. The yellow ranger though is free to flex with her skirt design.
The parts count is a lovely surprise. Each ranger comes with the same sword and with their own unique blaster. They are also packaged with a unique morpher key that can be used with the Beast Morpher (sold separately) to unlock new sounds.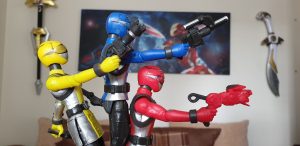 All things considered, I'm blown away by what you get for the pocket money price point of £9.99 with Gold and Silver now on offer I'd say don't delay in rushing out and getting the whole set, they are truly morphinominal!