As a non comic book reader (hangs head in shame) Black Panther hasn't really been on my radar, it would appear however that after next weeks general film launch it'll be a while before he gets off it. Incredible reviews across all manner of media have been forthcoming, scoring a whopping 99% on Rotten Tomatoes, "A cultural watershed" one reviewer announced – Wow, its a Marvel movie about a Panther/bloke/hero and we can;t wait to see it. Synopsis goes like this :
"Black Panther follows T'Challa who, after the events of "Captain America: Civil War," returns back home to the isolated yet technologically advanced African nation of Wakanda to take his place as King. However, an old enemy reappears on the radar and T'Challa's mettle as King and Black Panther is tested when he is drawn into a conflict that puts the entire fate of Wakanda and the world at risk".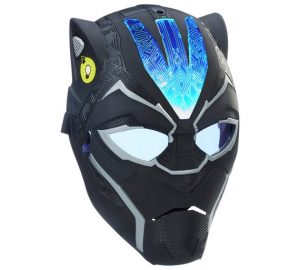 And so Hasbro appear to have pulled a blinder as master toy licence on this film, first up with the Power FX Mask. A flip-down lens with light effects, press a button on the front of the mask to activate the pulsating light effects then press a second time for a fixed light. To switch between ways to see slide the slider thing on the side of the mask.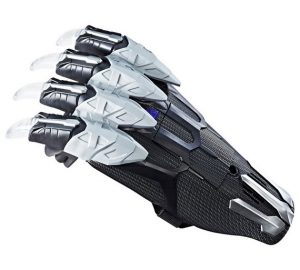 Yes, definitely having one of these Vibranium Claw pieces, motion activated slashing sound effects that are activated when you scape it along a hard surface – like we said, yes please, of and it has light-up stuff going on too for added goodness.
You can never have enough single shot/load, quick-fire NERF blasters in your arsenal. This Gauntlet one comes with added superhero style so bag one to sit alongside your Jolt blasters. Nicely done Hasbro. Here's the TV commercial that's also really not bad :