"Three, four, five… Blue. Oh, no!" All too clearly I recall the misery I felt counting my way round a Trivial Pursuit board in youth. Too old to play Snakes & Ladders, too young to organise a riot, I'd long suffer the misery of trying to win a Geography Wedge…
To be clear, I am awful at Geography. And History. Also, Literature. Science & Nature isn't a strong suit either, and I don't love Entertainment. Or Sports & Leisure… But I keep changing the subject; sorry. My point is that, with my encyclopaedic ignorance, I hate Trivial Pursuit and, to an extent, almost all trivia games.
Imagine my surprise, then, to discover a format that not only makes me chuckle but also gives me a reasonable chance to score points! Called Confident?, it's a lovely idea that gives a know-nothing numpty like me a real chance to win. "How?" I hear you ask…
Before I get into that, perhaps I should mention that Confident? is my client's game. I state this not because it makes a blind bit of difference to me but rather because I don't want anyone to discover it and think the Toyology site is open to bribes and payolas. It isn't. Or if it is, no one's told me. Or if they've told me, I've forgotten…
In any case, Confident? gives each player a real chance to win because you get to answer every curious question with a range. So when asked, "What percentage of the U.K. population – age 25 to 39 – has a tattoo?" there's a good chance no one knows… But everyone can guess. And the more you're sure, the more you score! So let's think… I figure, what? Got to be less than half? But more than a quarter? Let's say between 30 and 45%!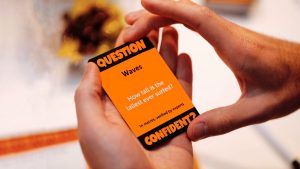 So now, with every player in an equal state of ignorance, it's a case of sauce for the goose: you're all on a level playing field. And with opportunities to copy or swap answers, and double your points when the time's right, Confident? delivers quirky trivia with a twist! Even better, it's one of those games in which everyone plays at once… In other words, you don't have a chance to get bored.
Oh! And let me not leave the question hanging… I've checked the answer. 30% of the U.K. population, age 25 to 39, has a tattoo! So we'd score points for saying between 30 and 45%, because 30% is in our range – just. Go us! Confident? is available online, in John Lewis and via some branches of Waterstones.