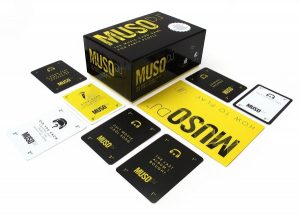 Fancy yourself as a bit of a DJ but not got the deck spinning knack then perhaps Muso DJ is a party game for you. Win points (and kudos) by guessing the correct song and artist quicker than your opponents. You play the card based game alongside your favourite music app, play them tunes and try help others guess the secret playlist category – Spotify and Apple Music, Amazon Music and YouTube are all welcome to join in.
Each player takes it in turns to be the DJ and plays a song or picks an artist that relates to the category on their playlist card. Playlist Card Categories include Guilty Pleasures, 'I Know All The Words', 'Disco Fever' and Girl Power to help create an eclectic mix of hits. Players will then score points if they can guess the artist, the song title and the playlist category. Budding performers can also win extra points by picking a 'sing!' card – first to 35 points wins the game.
The game has 150 playlist cards, 100 bonus cards and 20 sing cards and will set you back twenty quid, grab one, pack it in your bag before "Driving home for Christmas".