One of the biggest news stories of last year was the transfer of Power Rangers from their birth-home of Bandai to Hasbro, epicentre of behemoth brands such as Transfomers. Fans like myself waited with baited breath to see what this change would conjure and we were blown away by the offerings of the Beast Morphers series and the Lightning Collection of toys. Not ones to rest on their laurels, Hasbro is forging ahead with Wave 2 and this time there's even more surprises in store!
Firstly, the figures. Wave 1 treated us to the likes of the White MMPR Ranger, Lord Z and the Red Dino Charge Ranger; Wave 2 follows that varied pattern. The 4 new ranger moulds are: MMPR Pink, Lost Galaxy's Magna Defender and Red & Gold from Beast Morphers.
The Lightning Collection features over two decades of iconic characters from this storied franchise, and Hasbro is excited to bring its own take to this premium line. The  highly-articulated, 6-inch figures have awesome detailing and design, and  feature Photo Real technology for realistic actor likenesses.
The Figures feature over 20 points of articulation for high poseability and includes two different heads that can be swapped, one of the Ranger in his mask, and another unmasked. Figures also include extra hands and 3 accessories.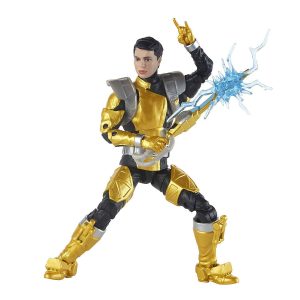 Next up is a big 'un. Wooo baby, am I excited about this reveal! The white Ranger Helmet. Now, the reason I'm so excited is because this ends the tyranny of the third party sellers. Bandia only ever released MMPR Green and Red as helmets and not only were they way over sized, you try getting the Red helmet for under £500 on the resale market… The aforementioned third party sellers, incredible artists that they are, sell PR helmets for at least £300. Meaning you couldn't cosplay as your favourite ranger without remortgaging your house! This wonder is retailing at £58.99! Time to whip out my old cosplay with a new Helmet!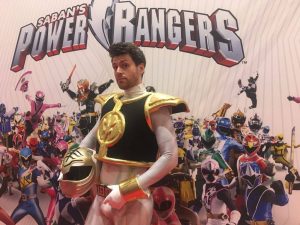 This Lightning Collection Mighty Morphin White Ranger Premium Collector Helmet is inspired by Tommy Oliver's iconic White Ranger Helmet from the original Mighty Morphin'  series. The full-scale helmet features a show-inspired detailed design, paint and finish for morphinominal display in a Power Rangers collection. The helmet is a wonderful addition to any fan's collection! It features adjustable straps so it will fit most, making it great to wear for Power Rangers cosplay, roleplay or costume.
So, here's the finale, and what a finale! The Beast-X-Ultrazord Collection lets you buy all 5 of the Beast Morphers Zords together. This behemoth is the largest (to my knowledge) fully transformable Zord to ever be released, standing at 15 inches high! This is an instant centre piece to a shelf of Zords… if you can fit it on!
With the Power Rangers Beast Morphers Beast-X-Ultrazord Ultimate Collection Pack, kids can imagine the ultimate team of POWER RANGERS, as they combine their Zords to take on the toughest enemies. The Pack includes all 5 Converting Zords inspired by the Power Rangers Beast Morphers series, so kids and collectors can build any available combination, including the Beast-X-Megazord. Pack includes Beast Wheeler Zord, Beast Chopper Zord, Beast Jet Zord, Beast Racer Zord and Beast Wrecker Zord, along with 5 Power Rangers mini figures, plus an elevator platform accessory. Each Zord can change between two or three modes so kids and collectors can display and play. Available exclusively on Amazon.co.uk