Building toys. They're the ultimate plaything for the imagination and now, thanks to STAX, your imagination has just been given a whole new dimension to play with: lights and sounds.
If you've ever wanted your hand-crafted fire truck to be a tad more flashy or your personalised beasty to have a bit more bite, these new powered bricks from STAX actually promise to bring your creations to life. Their motion activated 4X4 base brick powers LED lights and a whole range of sounds meaning your imagination can take a back seat to real flashing sirens, animal growls, head lights and much, much more.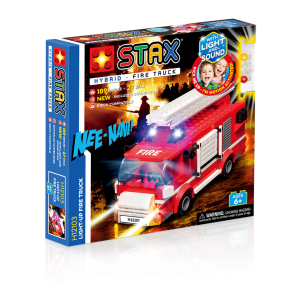 The coolest part of this brand new release is that their bricks interlock with all other popular brick-building toys meaning that your colossal LEGO Millennium Falcon can now have landing lights and interior illuminations!
The current range boasts 6 different animal sets (that come with their own unique nature soundscapes) as well as a fire truck and a police car, if vehicular based building is more your speed. Of course, each of these can be mixed and matched for maximum carnage… I've always wanted to hear a fire truck roar like a lion…
With the range launching in September at around the £20 price point STAX are sure to have kids and adult collectors chomping at the bit this festive season!