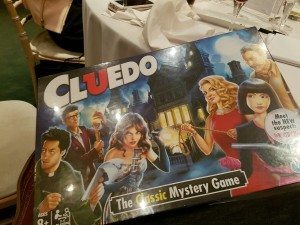 Not since its arrival in 1949 has Cleudo had an overhaul such as this, killing off an iconic character and replacing her with fresh blood. So long serving housekeep Mrs White is off, gone, no-longer in play replaced by Dr Orchid, her resume as follows; "Privately schooled in Switzerland until her expulsion following a near-fatal daffodil poisoning incident. She was then home-schooled by the very woman she would go on to replace. Orchid decided biology was her future and, while researching for a PhD in plant toxicology, unearthed a plant of incredible medicinal properties; a discovery she wanted to share with no one – especially her adoptive father Dr. Black".  All the other suspects have has a makeover, mostly making them more youthful apart from Colonel Mustard, who retains the look of a man that just parked his Spitfire outside. Craig Wilkins, Marketing Director for Hasbro in the UK & Ireland, said of the new character: "It was a difficult decision to say goodbye to Mrs. White – but after 70 years of suspicious activity, we decided that one of the characters had to go. Dr Orchid is a brilliant new character with a rich backstory and links to the Black fortune. We're sure families across the UK, Ireland, and the world will continue to create thrilling murder mysteries with all six suspects inside of the iconic Tudor Mansion."
We were lucky enough to be invited to dinner and experience a real-life version of Cleudo unfold and, in two teams try and figure out who has "done the old lady in". Full of trepidation after a woeful experience at a Murder Mystery evening some years ago the evening was the perfect way to welcome in the new character, bravo indeed to the organisers.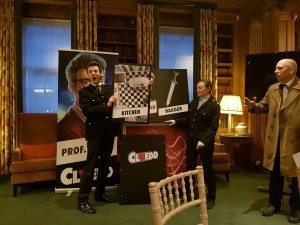 Our very own Plum.                      Dr Orchid, in the kitchen with a dagger!