It is almost upon us people, the Pokémon Detective Pikachu film hits the UK screens on the 10th May and we're pretty excited. Our man Ryan Reynolds is the main reason for our state of anticipation, this chap blew us away in his role as Deadpool so let's see what he can unleash as the Detective!
Take your Pokemon sleuthing duties seriously? Fine tune your skills with this Mewtwo-GX trading card pack and uncover more Pokémon from Ryme City and further.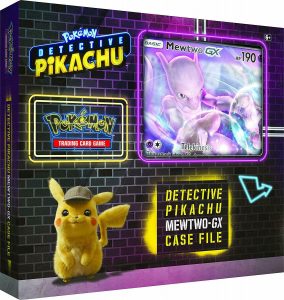 How about this rather dapper Pokemon detective cap, complete with fold-down-able flappy bits it'll keep your noggin nice and toasty and your King Lears too.
Super soft rosy-cheeked Pokémon Detective plush anyone? Yes, this 8-inch character is cuter than a bowl of kittens and most certainly the perfect company to take to the film later this week.