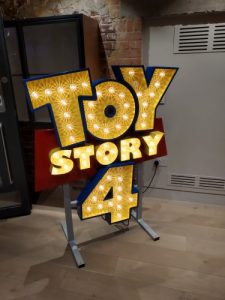 In case you didn't know the next Disney Pixar Toy Story franchise is released on June 21st, its name – Toy Story 4. We've updates a plenty incoming on the plethora of playthings. Let us start with the LEGO goodness we've just clapped eyes on. Serious brickheads might baulk at the LEGO 4+ ranges but easy to build means they're ready to brighten up those shelf spaces super quick style.
Buzz and Bo Peep Playground – £19.99
A Two-level playhouse with kitchen area, slide, bridge, climbing wall, bubble window stand and a special Starter Brick baseplate Includes Buzz Lightyear, Bo Peep and Gabby Gabby minifigures.
Duke Caboom's Stunt Show – £15.99 
It has an adjustable ring of fire, buildable motorbike, 3 stackable cans, 2 cars and a stunt sign to knock down – Ideal for budding stunt drivers, all the risk removed. Woody and Duke Caboom minifigures included.
Simple build RV, removable roof and interior with bed, toilet and sink, plus a park building wall, tree, picnic table and a grill, RV Park sign, tree and opening gate. Jessie and Alien minifigures plus Rex and Forky LEGO figures.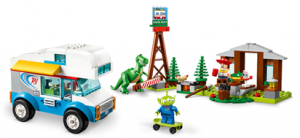 Buzz and Woody's Carnival Mania – £44.99
We love nothing more than a fairground/carnival set and this one with its carnival shooting game is ticking all the right boxes. A large sign and laser cannon, a spinning Terrorantulus ride with adjustable arms, couple of bumper cars and an ice cream shop with register, table and benches and a sign – minifigures included: Woody Buzz Lightyear and Bo Peep plus Ducky and Bunny LEGO figures. Get in my basket.