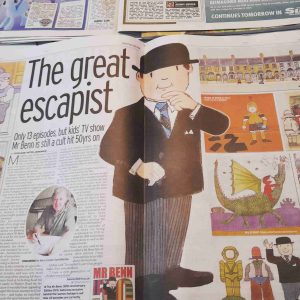 We've had fun this past week, plenty of it, we celebrated Mr Benn with the Daily Mirror, happy 50th to the legendary bowler hat adventurer. Then we got stuck in across all kinds of media around the actual non-story about Mr Potato Heads re-branding – slow news week or media desperate to talk about anything bar CV19, the weather or Harry and Meghan?
40m 50s in and you'll hear us giving all the love we can to Mr Potato Head, he IS NOT going gender neutral, there will still be Mr and Mrs Potato Heads' but there will also be a range called Potato Head. A right storm in a tea-cup, Good Morning Britain invited us on-air to comment but, that would've ended badly, so we declined, and Piers Morgan ended up talking tripe to himself with less than half the information he should've had for a national broadcaster #loveyoupiers
A Winnie the Pooh set was announced this week, we initially questioned the Winnie figure and his resemblance to the honey eating bear BUT, upon reflection, we've turned 360 degrees and love the set, deffo aimed at Kidults though with a £90 price tag.
Schleich, purveyors of all sorts of figures, Unicorns and Magicians to Lions, tigers and Bears (oh my) released some new lines this week….You decide :