Happy #nationalunicornday all. These mythical creatures have a deep history, claims of them appearing in Mesopotamian artworks back in 4000BC they're often thought to be misinterpretations of Narwhals or Rhino's – Who are these naysayers of their existence? Unicorns symbolise innocence, so only virgins could ever possible catch one. Their name, well pub-quizzers, it derives from the Latin for one (Unus) and Horn (Cornu) – Unuscornu is the literal translation but Unicorn has much more of a ring to it but. How it became Scotland's national animal has us stumped,  being turned into a plethora of playthings and other interesting items does not :
Rescue Runts – Unicorn – £13.50 at Argos
Remove the fleas and bandage, get the grooming kit out and transform yours from ragged to perfect – time to make your Unicorn feel magical once more.
Unicorn Balloons – £12.99 at Firebox
Craft your very own Unicorn balloons from all the pieces in the pack, can we urge you also to buy some helium as they're much more magical floating in the air.
Pomsies – Luna The Unicorn – £14.99 at Smyths
More magic here with this wearable Unicorn. Fifty sounds inside that react to your petting habits, colour changing eyes and a freeze dance mode to play with other Unicorn fans.
Feisty Pets Glenda Glitterpoop – £14.99 at Menkind
Stuffed full of attitude this Jekyll and Hyde of the plush toy word just needs a squeeze to transform from super cute to step back from the teeth.
Unicorn Mug – £9.99 at Prezzybox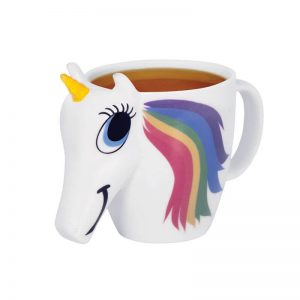 Transforming from regular mono-mane to a multi-coloured magical being – just add hot water.