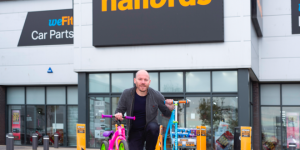 Designed by Rob Law the creator of the renowned ride-on suitcase brand Trunki and Halfords have launched their new Balance Bikes and Scooters – the only range that you can ride, tow, fold and carry.  Made with a lightweight aluminium frame they've puncture-proof tyres and come in two different sizes. Each bike boasts a unique, easy to use lift and twist handlebar and a genius folding rear wheel, meaning the bike folds completely flat, making them easy to carry, pack or store.
Unlike other balance bikes, the Trunki Balance Bike incorporates a tow/carry strap – a smart addition which allows you to carry the balance bike when not in use and aids your little one's confidence, letting you glide/ tow them when their legs get tired. The three-wheeled Trunki Scooters come in two different sizes and include a child-safe folding mechanism, and a lightweight  durable frame with large sturdy wheels, which means little ones can enjoy a smooth ride, whether scooting solo or being towed big people.
The Trunki Scooters and bikes are totally tool-free and come with a carry/tow strap and a bag, making them perfect for hanging on the back of the pushchair, stashing in the car boot or hanging in the hallway or garage when not in use.
Rob Law Founder and CEO of Trunki says: "I'm delighted to be partnering with Halfords to bring Trunki's ingenious thinking to this category, ensuing kids have fun and addressing the unmet needs of parents who are often left to carry these products when kids get tired and helping them pack them in the car or store at home. Together we're helping families on their everyday journeys and encouraging more healthy outside adventures.
Justin Stevenson, Halfords' Head of Design says: "We're thrilled to be collaborating with Rob Law, the creator of the iconic ride-on suitcase, on this exclusive range. Trunki's balance bikes and scooters are a great way to introduce children to cycling and scooting while being clever enough for parents to tow, fold and carry. Toddlers and little ones will have so much fun with their Trunki that learning to ride and scoot will be effortless."