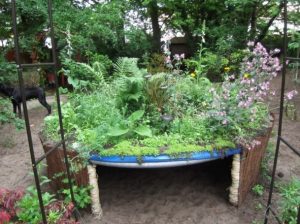 Many of you may well have seen a selection of trampolines sent skyward and garden swapping during Storm Ciara. Those in the leafier suburbs may well have had a selection to admire,  they're all much of a muchness, size and colour wise they vary and you can enhance most with accessories too but largely there's not too much innovation about. They've become much safer for certain but since George Nissen created the first modern one in 1936 it has remained a single bit of stretched circular/rectangular material on a single level.
We feel here is a drum roll moment here as the Plum BOWL Freebouncd trampoline hits the shops next week. The outdoor specialists have taken their trampolining know-how and looked at the exponential growth of the trampoline park and had that light bulb moment. What we have is n utterly unique curved perimeter and bowl shape making this piece of kit great for gymnasts, perfect for partakers of parkour, but, most of all, fun for all the family (one at a time maximum of course).
Richard Redman, senior buyer and outdoor expert for Robert Dyas says, "We are tremendously excited to be launching the Plum BOWL Trampoline.  Not only is this super-deluxe trampoline an attractive asset to enhance any outdoor space this summer and a fantastic concept to promote fitness, but it pushes those who really want to hone their gymnastic skill."
As the press release tells us "Few activities can claim to be so diverse as trampolining and this is why the price tag of £1,500 reflects the versatility of such a premium piece of equipment. Trampolining is a recreation, an acrobatic training tool and of course its own highly competitive Olympic sport. The Plum BOWL achieves all of this and rockets it up to the next level. Whether you are looking to casually improve your health on a regular basis or wanting to train your tumbles for Tokyo this is an absolute must have".
Time to get ready for some "Freebounding" folks and bookmark THIS, the Robert Dyas site to snag yours next week. Head over to Plum Play to watch a video and grab some more specifications and more snore inducing stuff.