The global gathering of all things electronic gaming is underway in L.A. and Ubisoft have delivered a deft move in a category thats been coughing and spluttering of late. Certainly Skylanders came along a couple of years back and took us by storm, others joined, Disney Infinity backed off, then Skylanders took a break, this announcement has perked us up.
Matt Rose, Ubisoft Toronto producer
Starlink: Battle for Atlas allows players to create a team of starfighter pilots and directly control them in battle against an enemy known as the Forgotten Legion.
At this new games core is a set of collectable starship toys, each one of them having the ability to be physically altered by swapping weapons at specific touch points on the toys wings and hull.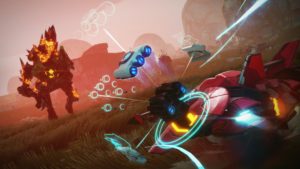 The toys can be attached to each player's controllers and be recognised in the game – possibly the most advance form of the toys-to-life concept to date.
Expected to land in autumn next year, it'll be available on Playstation 4, Nintendo Switch and Xbox One.