83 days to go……
It's beginning to look a lot like Christmas…especially since Hamleys have just unveiled their 'Top 10 Toys' for 2019's festive period! This year the iconic toy store has taken it back to basics. 2018's 'Top 12' focused on 'Imperfection' and 'Slime' whereas this year is all about 'Nurture' and 'S.T.E.M'. So, strap in and take a look at what your little ones will be asking Santa for.
Scruff-a-luv's My Real Rescue
The most lifelike Scruff-a-Luv  yet, Real Rescue reacts to how you nurture it  just like a  real rescue pet. It features over 35 lifelike sounds and interactions including shivering,whimpering, feeding,hiccups and it has a heartbeat.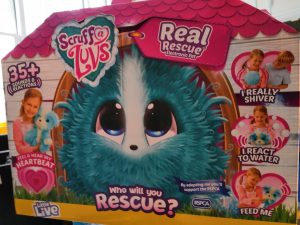 Coding Critters
Teach preschool children the fundamentals of coding without the need for a screen with new, Coding Critters! Scamper, Ranger and Rumble provide a fun, hands-on approach to real coding concepts whilst sparking your little one's imagination.
Pictionary Air
Connecting technology with a classic family drawing game. Draw in the air and see it on your device in this exciting take on the quick-draw  classic. Download the Pictionary Air app to your smartphone or tablet to get started. For even bigger laughs, you can cast your drawings from your smart device to  your TV using Apple TV,Chromecast or a similar streaming device.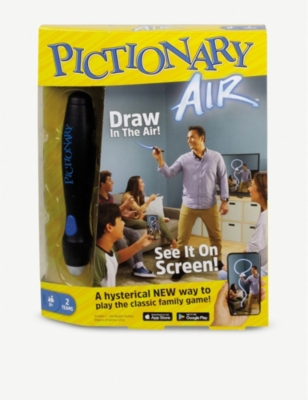 Smart Pixelator
The new toy emowers kids to pixelate any design, encourages STEAM learning and build 2D or 3D projects using Bluetooth connectivity. The device has easy-to-follow lights and a variety of creative tools. The free app also lets children engineer their own projects, encouraging customisation and experimentation.
L.O.L Surprise Chalet Dollhouse
The L.O.L.Surprise! Winter Disco Chalet is the ultimate destination for a winter holiday. Hop on the Snow Bus and unbox 95+ surprises, including an exclusive Winter Disco family. Made from real wood, the L.O.L. Surprise! Chalet has 3 stories and 6 rooms, and includes a light up ice skating rink, working ski lift, chimney that really snows, and it fits both L.O.L. Surprise! and L.O.L. Surprise! O.M.G. dolls!
RRP: £250
Welcome to a world of empty wallets – How MUCH?
Nerf Fortnite RL
Inspired by the blaster used in the popular Fortnite video game, this new toy is bound to be a favourite on Christmas lists- you load, prime and fire in 3 quick steps. Includes 2 Official Nerf rockets with hollow tips.
Poopsie Surprise Dolls
Make D.I.Y. slime fashions with Poopsie Surprise Dolls. Unbox 20+ surprises including a gorgeous 14″ fashion dolls with stunning features and beautiful, brushable hair. Will you get Rainbow Dream or Pixie Rose? Each 35cm doll comes with powder to make slime and unique  fashions.
No, they don't poop. No, we don't like them. Yours for fifty quid.
Oblique Drifter
Boys and girls can have hours of fun as they stay active by drifting around with this slick four wheeled machine. This buggy has smooth steering, a strong climbing ability, a 360-degree free rotation and multi-function drift. The vehicle also plays music.
Lego Hidden Side, Paranormal Bus 3000
LEGO Hidden Side Paranormal Intercept Bus 3000 combines physical bus model with an augmented reality play experience for ghost-haunting adventures. Immerse yourself in a fast-paced augmented reality iwith the powered-up school bus which features cool tech details and includes 6 figures including a ghost dog!
Linkimals, Smooth Moves Sloth
The Linkimals, SmoothMoves Sloth gets your baby moving and learning with exciting lights, music, songs, and groovy dance moves. Press the buttons on the characters feet to hear all about numbers, colours and more. The Linkimals range also uses nearfield technology which acknowledges the other Linkimals characters and creates a synchronised light show paired with playful music.
Hamleys are also very keen to show the world that they are much, much more than just a seller of toys, oh no! They have their very own range of in-house, exclusive play things that could bump this 'Top 10' up to a 'Top 14'! Want something a little special? It might be worth checking out the extended list.
Hamleys' Super Soft Plush
 Meet  the adorable super soft and squishy plush animal family! Perfect for a Christmas cuddle this year, the new range consists of a mini bear and mini owl,big and floppy alligator, rhino and duck, and medium-sized panda, penguin and chick.
 RRP: £10+
Colour Change Chameleon
Part of the Hamleys Super Lab collection and one of our all-time favourite gadget toys. Not only is this clever chap a walking science lesson, he is also a lot of fun. Watch him change colour to suit his surroundings…and learn exactly how he does it, along the way! The perfect gift for children with a thirst for knowledge.
RRP: £20
Hamleys' Remote Control Cobra
Perhaps not one for those who fear snakes, this life like snake toy can move forward, left and right, stop and has a retractable tongue and swinging tail.
RRP: £30.00
Transforming Wall Racer
This slick machine transforms from a car into a robot,  it can also race up walls and defies gravity.
RRP: £28.00
So, there we have it. What will you have under your tree? A Scruff-a-Luv that just needs a caring touch or a remote control cobra perfectly designed to scare granny!? Either way Hamleys has you covered. Happy gift giving everyone!