We knew it was coming but didn't know exactly when, now we do, it's the 17th of November, plenty of time to lighten the wallets of tourists passing through Leicester Square later this year.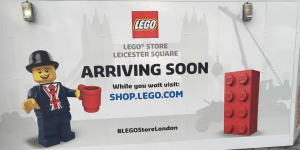 The Danish brick outfit are making this the biggest LEGO retail outfit on the planet covering a very decent 914 square metres over two floors of this impressive refurbished building. Inside they are building a Big Ben from over 200,000 pieces and when completed, after over 2,280 man/woman hours, will the feature the biggest Elizabeth Tower replica in the world standing at a neck cricking 6.53m with a working clock – Illuminated at night.
As well as loads of inspirational builds there'll be exclusive product sets, hands-on building areas, building demo's, a Pick & Build Brick Wall and new LEGO experiences – we're guessing it'll not be a treadmill with LEGO glued on for the an underfoot challenge of some sort.
This shop is also getting its very own LEGO mascot, Lester, already in full view on the construction façade. He is described as the quintessential English gentleman – a tea-drinking LEGO Minifigure, an expert on all things pertaining to the capital city and all LEGO related matters.
Warning : The M&M's and Nickelodeon outlets are are all less than 30 seconds away from here, your wallet could well be very weary after a trip to this part of London.