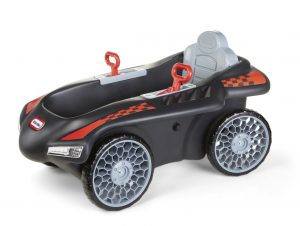 Owner of Yiannimize, star of Dave's Yianni Supercar Customiser, car pimper for Harry Styles, Anthony Joshua and Gordon Ramsay has been working on a ride at the more affordable end for mortals.
Yes his usual trade are the likes of a McLaren 720, Lamborghini Aventador and those Italian red ones with a horse symbol on the front, this is a £119.99 Sport Racer – the latest edition to the Little Tikes Cozy Coupe range. For years it has been the UK's No.1 vehicle, even out selling the Ford Fiesta.
The first sports car in the collection was sent to Yianni and his team for a complete supercar customisation treatment including a flip effect wrap which shimmers yellow, green, gold and blue in different light thanks to its hexagon layering of colours.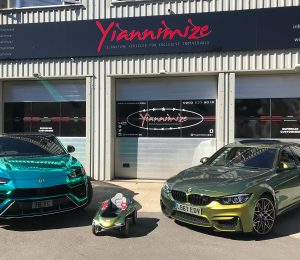 Supercar customiser, Yianni Charalambous owner of Yiannimize said: "When I was offered the opportunity to completely customise a brand new car from the nation's leading car manufacturer, I was expecting a Toyota Corolla to pull up outside my garage or perhaps a VW Golf – so I was a little baffled when a Little Tikes Sport Racer rolled up for me to wrap – I'm used to weird and wonderful briefs from the world's rich and famous but this has to be the most unusual to date. The Sport Racer looks awesome, we've given it a flip wrap which matches my general manager Bert's BMW M3, but I certainly won't be making a business of wrapping toy cars."
There's a competition to submit your own customise creation ideas HERE.