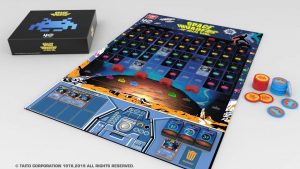 At some point in 2020 they tell us the game will be released at retail, we're not willing to wait and nor should you. Space Invaders The Board Game on Kickstarter has a bunch of benefits that the $40-ish game won't have when it hits the shelves next year so get along and bag yourself backer benefits, these include :
Much faster access to the game.
Around 25% savings compared to retail release for the standard edition.
40th Anniversary emblem only available to Kickstarter backers.
Deluxe Edition only available to Kickstarter backers.
The edition you get of course depends on how deep your pockets are willing to wade in on the KICKSTARTER – The standard version comes with a standard board, the deluxe version with a Neoprene play mat and premium cards and pieces. The normal Kickstarter level of temptation exists. If you have $990 laying around, you can get the limited (to 500) Space Invaders Diorama that comes with a limited art box and is signed by creator Tomohiro Nishikado (voices in our head screaming "Do it, Do it" you?).