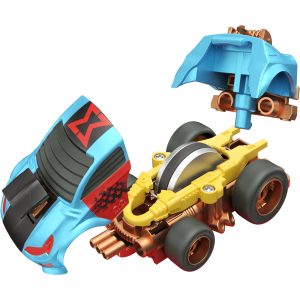 Right, our Boom City Racer cars have arrived and, before we turn the Out of Office on let us give you the lowdown. Falling into the category of "rippers" this genre of toy has been around since the 70's, a threaded piece of plastic inserted into the chassis of a vehicle, you pull, vehicles internal mechanical workings respond appropriately (VR*) to the amount of effort inputted (MA*). So, this new range have of course all the 21st century updates we've been hankering after, they indeed reach very decent scale speeds, travel some distance and explode into multiple piec4es on impact – Yes folks, these are THE rippers you've been waiting for. Whether you send them speeding into a solid object during solo play or directly into the path of an oncoming Boom City Racer the same result will be achieved, small but totally satisfying smash-up. Then, build them back up and re-match. There are 24 to collect, part are interchangeable, variety of designs isn't wildly different across the ranges but they are fantasy designs so each does have a point of difference.
The firework launcher looks the dogs undercarriage and only when you first launch will you see what ride you have inside, so, which set is it going to be?
Single pack £5.99 – One car, one launcher.
2 car pack – £9.99 – One launcher, two cars.
Starter Stunt Pack £15.00 – One car, ramp, five barrels, electronic firework sounds and lights on the launcher.
Keep your eyes out for the limited edition 'Cop That' car with lights and sounds!
Right, OOO is on.
*This is the very first time since our Physics O Level (yeas we're that ancient) we've EVER used any of it, not a complete waste then –
 Mechanical advantage (MA) = Load/Effort
Velocity ratio (VR) = distance effort moves/ distance load moves in the same time
Some other rippers :