Six years in the making/waiting and Frozen II is finally here, expect the ear-worms to be warbling across the nation as from today. Unsurprisingly there's a plethora of playthings to celebrate the film, cynics amongst you may say that most of them have been repurposed/repacked from unsold stock from the first outing. There are a whole new range of Elsa and dolls in different dresses, new music chips in the singing versions, new ranges from LEGO and playsets from Disney, some of the Gustav and Olaf toys might well be  simple repackage efforts but there's an almost exhaustive selection of newly designed kit that will really give the toy market a boost for the coming weeks.
We've found this Sven, has to be missed opportunity of the merchandising march for this film, okay so you can hear a chomping noise when you feed the plastic carrot, galloping sounds when reins are pulled and he also utters other phrases BUT he is sit-on only, not an actual ride to propel a Frozen fan forwards – trick missed for what could've easily been crowned "big gift of the year". Enjoy the film folks, I'll be donning my Olaf outfit and humming the theme tune for the foreseeable.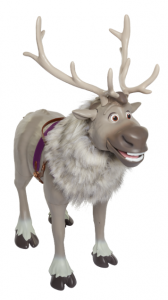 Three foot high but only to sit on.