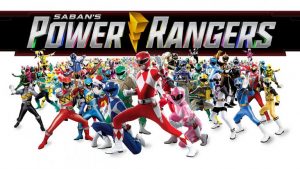 Charge the Zeo crystals and prepare to shift it into turbo as Saban's Power Rangers switches gear. In what is probably the most shocking news to come out of New York Toy Fair 2018, Saban has parted ways with long time partner Bandai in favour of the Transformers power-house Hasbro. The move has left Ranger fans curious about the future of their beloved toys as Bandai has had a fantastic record of producing both high end adult collectibles and the less expensive kid-friendly zords and action figures.
Hasbro should be a fantastic fit for the 'teenagers with attitude'. Their experience with Marvel's superheroes and Paramount's Transformers has produced voice changing helmets, missile firing gauntlets and highly detailed action figures all of which can be brought over to our multicoloured power team.
This reviewer is cautiously optimistic. Bandai's Legacy line has been utterly phenomenal and are easily the best toys I own, were they to cease I'd be very disappointed. That being said, Hasbro has consistently upped their game with Transformers over the last few years so, if anyone was going to take over, I'm glad it's them!