Another year, another Transformers movie. But, as with most things, 2018's version is a tad different. The upcoming robo-madness is a prequel, charting Bumblebee's antics 30 years prior to Optimus Prime's romp with Shia LaBeouf. The movie looks to be a 'back to basics' affair and the toy line looks to be following suit.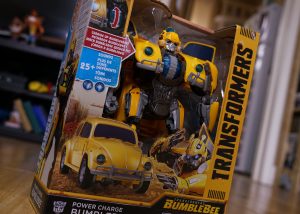 Power Charge Bumblebee is a satisfyingly large edition to the roster, standing at around 12 inches tall he sits well with the Leader Class figures from the previous movies. He's a tad jarring in hand though. His gimmick, the 'power charge wheel' that is nestled in his chest brings this Bee to life with a few revs, and his collection of sound effects are wide ranging and quite endearing. But that gimmick takes away from the rest of the toy. Power Charge Bumblebee is the perfect example of a 'Shell Former.' His car mode is basically a Beetle shaped coat that he drapes over his head and the robo-kibble hanging from the under carriage does little to add to the illusion.
Normally I'd dismiss this issue considering the target age range but, even though his Bumble comes across as a 'My First Transformer' his transformation process is far to fiddly for that to be the case. His leg arrangement is a tad maddening for the first few tinkers and I can't imagine a 6 year old having the patience to get to grips with it.
As a result this opening salvo for the new movie's toy line is hit and miss. The gimmicks are well realised and as a figure 'Power Charge Bumblebee' would be a welcome addition to young collectors shelves but his purpose as a Transformer has me at odds. This is by no means a poor toy, you just might have to have a child who particularly enjoys tough puzzles for this to be a 'must have'.