'Well, this'll be an easy morning.' I thought. 'Open up the new Playmobil Ghostbusters' Fire House and crack out a quick review'… THREE hours of building later and it has become clear that I have wildly underestimated Playmobil. Did you know that the kid friendly, chunky plastic play sets were so construction heavy? I have to admit, I did not (but oh I very much liked it). This was a semi-epic build on the scale of any comparable Lego or Meccano set that I've attempted recently and the end result is a stunner. Standing at 45cm tall and boasting three floors stuffed with gizmos, furniture, fan-service and, a car-park this fire house manages to fuel the Ghostbusters nostalgia by just sitting on my desk.
I'm astounded at the pricing. Retailing at £59.99, it is an absolute steal, being worth the price for the entertainment of the build alone! The details also emphasise the value, with a rolling shutter door revealing a screen accurate ghost-storage unit and two flights of stairs leading to a working fireman's pole and fully customisable play spaces.
The 5 figures that come with the Fire house are a mixed bag though. I was happy to see a kitted out Stanz and a Lab-coat-adorned Spengler but I could have done without Tully in favour of another member of the famous foursome.
It is clear that Playmobil's game is far beyond what I remembered from my childhood. If you compare this to Lego's Fire House I cannot believe that there is a price difference of £200! This set brings the satisfaction of construction while also delivering a much more aesthetically pleasing (and more robust) final product.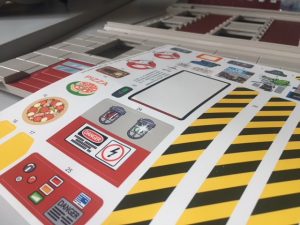 If you have anyone in your life who loves bustin' ghosts, Playmobil's offering is an absolute must! I love the damn thing so much I'm going to have to go and complete the set. 'Who Ya Gonna Call?' Playmobil, that's who. 'Hey Playmobil, I need me one of them Ecto-1s, my car park is far too empty.'