Star Trek day today, yes, 8th September each year, the first episode aired in 1966 on this rotation of the Earth. We've some decent pieces from Bandai hitting the shelves presently. Eight 5" Collectible Figures, a classic Phaser and the most iconic ships in the Starfleet, the U.S.S Enterprise;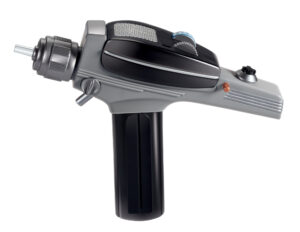 From October this Klingon Bird-of-Prey expands the PLAYMOBIL Star Trek universe .The roof of the bridge is removable with room for two Klingons. The wings on the side of the spaceship can be angled into three different positions: for attack, flight and landing modes with functioning cannons on the side. Light and sound effects from the series provide your authentic Star Trek nostalgic trips down memory-lane and various displays are available for the monitor. USB or battery powered it'll set you back £269.99 in October.
Beam us one up Scotty!