Venturing once more into the licensed property market we think that the 2020 line-up is going to appeal to the biggest demographic in its history. They had decent success last year with their Ghostbusters line-up and are following on with crime fighting, camper-van riding bunch with Scooby-Doo. First sets will be available this month, a figure pack with Shaggy, Scooby-Doo, and a ghost, as well as the Mystery Machine set with Fred, Daphne, and Velma figures. Both sets have the mystery-solving kit you need (flashlights, magnifying glasses, and Scooby Snacks) and this is joined by a range of a dozen blind-bagged collectible mystery figures based on famous villains from the animated series.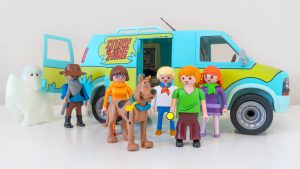 Also based on the animated series rather than the one some here at Toyology Towers remember (the 80's series with badly dubbed Austrian actors and actresses) the Heidi range has the Alpine Hut with her grandfather, Aunt Dete and Heidi's St. Bernard Josef and plenty of role playing accessories in the 107 piece set. For the full line-up take a look here.
And finally but by no means last there is the Delorean with 1985 Marty McFly and Doc Brown figures as well as Doc's dog Einstein and their accessories. The line-up will also include a two-pack featuring the figures of 1955 Doc Brown and Marty and a set of collectible 6-inch Doc Brown and Marty characters will round out the sets. The car has lights, that's enough for a trip to the buy button for us.