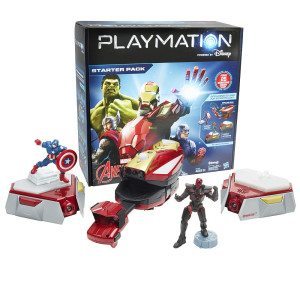 With Playmation going into pre-order in the US ahead of its October 2015 release, Disney has been showing off its new children's wearable tech adventure in Disney stores across the States.
Playmation is hard to place in terms of genre. It nods a wink at the toys to life genre that crosses collectable figurines and on-screen video-games. However, although the toys here are certainly "smart", being connected to a companion app to upgrade powers and download more adventures, the action all happens in the real world rather than on the TV. Players place two Power Activator sensors in the room, put on the Avengers styled Repulsor glove and press a button to get started. A speaker in the glove narrates the story and gives instructions to the young player. Built in tech can tell if the child is pulling off the right moves, and gives instant feedback through lights, sound and vibrations in the unit.Although the slightly odd set-up takes a while to get used to, once inhibitions are lost what remains is an engaging and very energetic play experience. Along with the running around there are moments in the story where players must shoot the Power Activator units with an infra-red beam in their Repulsor glove, or quickly leave the room to avoid a virtual explosion. Seeing it in action it felt much more like a video-game than a toy. As one young player described it, "it's like playing a video-game in real life." I had to agree that this did seem to take the best of both worlds.
Once you have finished an adventure you can sync your tech with the app to earn points, unlock more adventures and power up your Repulsor glove abilities. The toys to life feel is further underlined by the ability to buy new figurines to expand the abilities of your weapons. The first waves of the toy focus on The Avengers brand and will be followed next year with Star Wars offerings. Then, later we will have Frozen tech adventures. Disney are certainly pulling out all their trump cards for all this. Currently Playmation is expected to launch in the UK soon after, although no official date or pricing has been announced beyond that it will roll out internationally in 2016. In the US it's not cheap at $119.99 for the starter pack. This is likely to translate to a UK price of £119.99, although again this isn't confirmed.
While some may write off Playmation as just another tech toy, the level of commitment from Disney and number of heavy weight franchises suggest that it will be with us for some time. Perhaps most telling, actually playing the game is much better than you can imagine from any description.
Plenty more video for your viewing delight on Family Gamer TV