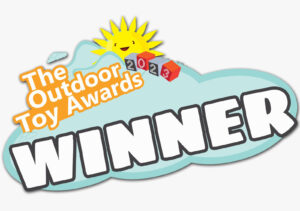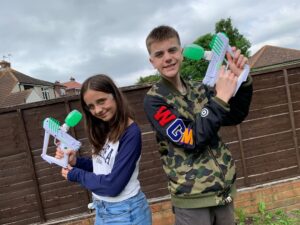 The winners of the Outdoor Toy Awards 2023 today receive their well-deserved gongs, ten categories were under scrutiny from the critics who attended the event last weekend.
With over 20 kids in attendance and seventy-PLUS toys to test it was a gruelling afternoon of fun in the sun all aided along with plenty of hydration and a questionable playlist supplied by co-organiser Nick Gibbs-McNeill.
With ten categories to find a winner for in each the testing was a serious endeavour by the Toyminators watched closely by the judges to assist in their selection for this years "Gold Award", the top outdoor toy of the year.
"We've managed some national coverage with more to come and plenty of online activity to bolster the awareness of all our entries, the Kidzcoolit channels and Toyology together with their social outlets will further support all our entrants" Said Co-Founder of the awards Peter Jenkinson.
Nick Gibbs-McNeill the other half of the awards added "It was a logistical challenge but the brands we've worked with are so fully supportive of what we're doing and every one of them worked closely with us to make this marvellous day happen".
The ten categories are Climbing and Adventure, Sport and Splash Fun, Outdoor Games, Science and Nature, Ride On, Trampolines, PreSchool Play, Battle & Blaster Toys, Houses, Tents & Hideaways and Flying Toys.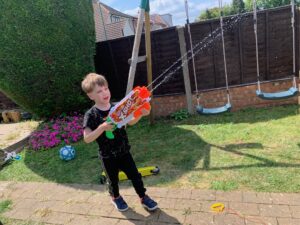 And so, as they say, without further ado here are all the winners, there are also several "Commended" awards that have been given out, all of these are available to see on Toyology.co.uk and Kidzcoolit.com.
The Winners :
Judges GOLD Award – HYPR from Wow! Stuff
Climbing & Adventure
TP UFO Den and Climbing Frame
Sport & Splash Fun
Golden Bear Smart Ball
Outdoor Games
Jump-It Wipeout from Character
Science & Nature
Learning Resources – Sneak and Peek Periscope
Ride-On
Huffy Green Machine
Trampolines – Joint Winners
SportsPower 10ft x 8ft
TP Infinity
Pre-School Play
Fisher Price Trampoline
Battle & Blaster Toys
GEL Blaster Surge
Houses, Tents & Hideaways
FEBER House in a Tree
Flying Toys
HYPR Rocket
Commended products :
FEBER four in a line
Koosh
Aqua Trendz Unicorn and Shark set EOLO
Jump-It Wipeout Character
Hasbro Twister Splash
Lawn is Lava WAHU/Goliath
Can Off
Seascope Learnring Resources
Bug Safari     Playmonster
Micro Scooter
Ozbozz Dinosaur Scooter
Scuttlebug
Breyer – Volvo Wheel Loader L260H
X-Shot Insanity Motorized Rage Fire 
X-Shot Water Fast-Fill Skins: Pump Action
Funrise Bubble Blaster
Funrise Rollin' Storm
Bionic hand Thames and Kosmos
Koosh Disc Playmonster