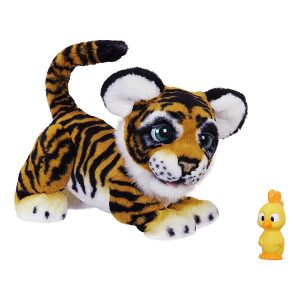 My boy Billy and I have been hanging out with Tyler – Full title -"Roarin' Tyler The Playful Tiger" the priciest part of the Hasbro FurReal range yet, well at full RRP he was, now they've trimmed quite a bit off the price tag. Let us not beat about the bush (or jungle), this tiger cub is a very cute  kitty, beautifully designed with incredibly soft stroke-able fur, which really seems fur-real (badum-tish) He has huge hypnotic moon like eyes and Billy is obsessed with these, so much so in fact,  he very much enjoys poking them, almost as much as he enjoys poking me in the eyes.
When Tyler and Billy met it was love at first sight. Billy was pressing his nose against the plastic cellophane, staring at him longingly whilst Tyler stood all proud in his bright colourful box. Fast forward a little, and once this Toyfather had worked out how to release our young T-Cat (that's our nickname for Tyler) and install the batteries there were kisses and cuddles all round and then of course the roaring began.
That's right people, roar at Tyler and he will respond by showing you how it's done properly, pet him and he will respond with 100 or so different sound and motion combinations. It's all done through six smart activation points all over his tiger striped bod. His eyes, ears, head and tail are all expressive and he will sometimes even offer a noble bow.
In the box Tyler comes with a helpful 'Pet Care Guide' and a squeaky chicken toy which he loves to chew on and shock horror Billy also loves to chew on it too. Perhaps the £100 price tag for this little cat is a little steep but there seems to be a lot of hype surrounding Tyler this festive season and I'm sure he will make a lot of little wannabe tigers roar with delight (badum-tish PTII)
We say YES, this is definitely the wow toy for toddlers this Xmas.