Well, we at Toyology are a bunch of lucky boys and girls! Hasbro sent us an awesome box full of Power Ranger goodies! While we will take an in-depth look at all the Beast Morpher goodness in a later review, for now let's just revel in the glory of this care package.
This bounty is stuffed with action figures, role play morphers, blasters, zords and blind bag mini figures! Is it strange that we want to keep the box around the office? It's basically art!
Wave 1 of Hasbro's first Power Ranger action figure range sees the titular trio facing off against a diabolical Tronic! Each figure comes with a morpher key that can be used with… THIS:
Our very own morpher. We knew we were worthy of the Power Grid, it was only a matter of time. Featuring 30+ sounds and phrases, motion detection and awesome pop out glasses, this morpher can show the old model a thing or too!
It can't all be fun and morphin', sometimes the only thing that'll get the job done is a faithful Cheetah Blaster.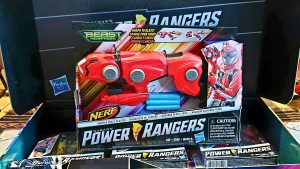 With three foam darts and cool transformation you'll look pretty darn slick out in the NERF arena. Just remember to play by the rules. You are fighting for the Good Side- right?
Tucked away in the front of our gift is a trio of blind bags! Can't wait to tear these open and see whats inside!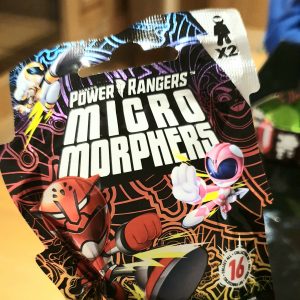 To top it all off Hasbro even included a brand new Zord. And, not any Zord, the Red Racer Zord! This isn't the fully transformable model but a friendlier version that the younger fans can smash and bash around without worrying about breaking off a connector port.
So, thank you Hasbro for sending us this Power Ranger product package over – Y'all are way too generous. Oh and want to know something cool? See what happens when you open the box.