Born this day in 1809 he wan;t the first to reckon we humans had "evolved" from lesser species, he was the man who made it controversial to say so, heck, even the Greeks had some semblance of the evolutionary process. Hats off to the chap who was ridiculed for his thoughts way back when, here we are to celebrate some playthings in our own hat doffing to the globe trotting naturalist:
Untamed Mad Lab Minis – Hatch gory hybrids from Geoslime, Biosand, or Terraclay (no, we've no idea either). Bioengineered from Untamed DNA this collectable range features pre-historic and beast miniature hybrid creatures, unveil the DNA samples, extract them from their gunk and classify your creature – Will a Raptor, T-Rex, Allosaurus, Spinosaurus, Sabre-tooth Tiger, Dire Wolf, Bear, Polar Bear, Gorilla, or Skeleton.  You can mix and match their heads and bodies.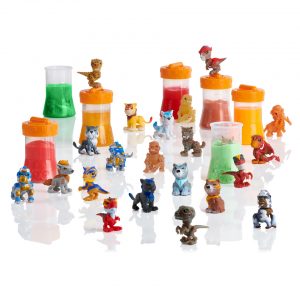 Feisty Pets – We loved the first installment of these cute, lovable, mischievous pranksters, with a feisty side and now we're welcoming the four centimeter collectible versions. A press of their button for a fundamental expression change and plenty of cheeky characters to stick on your shelf.
Beaker Creatures – Some stealth learning to be done here, 35 Creatures to collect, from five different planets, a collect-a-set that is truly out-of-this-world collection (24-carat rare creatures also to be found). Create bubbling reactions by dropping in a Beaker Creature Reactor Pod into a bowl of water and marvel as it watch it fizzes and bubbles before the reveal. Then take your discovery to the magnification chamber for closer inspection.