There are bigger fans of Star Wars than me, some dress up, have considerable collections of memorabilia/toys and such, I'm just an everyday fan. Since the multi-billion-dollar deal between Lucas and Disney there have been some decent films and merchandise to-boot. This year-round obsession however by the Wall Street listed outfit to stuff more stuff on the shelves is reaching creaking point. Don't get me wrong there is some awesome stuff to be found you'll just have to look a little harder to clear through the chaff. Here's some that cleared our chaff-o-meter :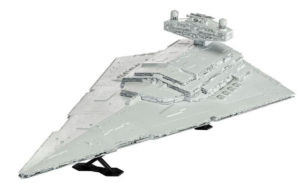 This is your 1:2700 scale, 110 piece build that comes in at 600mm in length when finished.
An intergalactic version of one of our favourite games.  Loads of X-Wings, Y-Wings, B-Wings, TIE Fighters, Millennium Falcon token, Empire cards, Rebel cards, Stormtrooper tokens – full of Star Wars goodness.
Woah there, no it doesn't harness an actual energy beam to slice through your pizza – sorry. By way of an apology this Star Wars day may we offer you our spoken version of the spoken sounds of the sabre – Two lightsabers clashing together: Kksssshhhh, Swinging through the air: Vrãu, vrãu, Motionless: Nnnnnnnnn