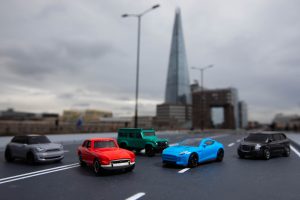 Matchbox have today launched a toy line paying homage to the most iconic car manufacturers in Europe across the UK, Germany, France, Italy and Russia. The new European line features 100% licensed vehicles with authentic details from famous car manufacturers including Land Rover, Audi, Mercedes, and Porsche, among others.
Created nearly 70 years ago by British inventor Jack Odell and continuing to sell more than 40 million die-cast vehicles each year, Matchbox is relaunching in several markets across Europe in 2021 with brand new product lines and packaging. With a renewed focus on realistic adventure and authentic storytelling, Matchbox is highlighting what continues to make the classic toy relevant for today's kids.
For the new 'Best of Europe Car Assortment', Matchbox designers wanted to capture the most well-known and representative vehicles for these countries to pay homage to the design and culture of the country. Working with local teams in market, designers studied the most popular automotive manufacturers, types of vehicles, popular colors, decoration and details of various types of vehicles including rescue and construction such as ambulances and fire trucks. This along with review and sign off with the official car manufactures allowed the designers to make the best and most realistic executions of the new vehicles, whether that be rescue vehicles, tractors, sports cars or SUVs.
"Matchbox first invented vehicle play as we know it almost seven decades ago, and we have taken inspiration from those original roots to evolve the brand for this next generation," said Roberto Stanichi, Global Head of Vehicles at Mattel. "With this year's brand relaunch, we've identified the values that have made Matchbox so enduring and focused the brand on encouraging kids to explore through realistic play and enhanced design. With captivating die-cast details and relevant playsets based on the world kids see around them, Matchbox provides tools through play for even more open-ended adventures."
 In developing the new 'Best of Europe Car Assortment,' the Matchbox world-class design team worked closely with regional automotive manufacturers to determine what models would be best suited to represent each country. From Germany's Audi R8 to France's Renault Kangoo Postal Service, popular models based on cultural preferences were selected along with vehicles such as firetrucks and ambulances that are ubiquitous with the Matchbox heritage of real-world adventure across the continent.
Joe Sinclair, Branded Goods & Licensing Director, Jaguar Land Rover said: "As long-standing partners of Mattel, it's fantastic to have some of our most iconic vehicles feature in this new special edition Matchbox die cast range.  Forming part of the star line up of the new Matchbox 'Best of the UK' series will be the Land Rover Defender, Land Rover Series II, Jaguar E-Type Coupe and Jaguar F-Type Coupe."