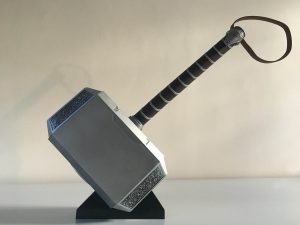 With Thor: Ragnarok storming the box office and paving the way for next years Infinity War, the Norse God of Thunders spark couldn't be brighter! So we took a look at Marvel Legends Mjolnir to see if we could harness some of that lightning.
At a cool £99.99, this isn't a toy for the younger fan, instead it's aimed at the cosplayers and collectors amongst us. The weight is what hits you first. Being a 1:1 scale replica with a die-cast metal pommel this hearty hammer is incredibly satisfying in-hand; and giving it a mighty swing certainly makes you feel the part.
The details hit you next. The real leather strap and Nordic carvings make Mjolnir authentic and the built in thunder & lightning effects add to the playability.
There are some quibbles though. Firstly, the base that comes with the hammer is woefully basic and cheap looking. Just a simple black plastic cradle that could have easily have been improved with a lick of paint or a continuation of those Nordic symbols. I am also put off by the location of the battery compartment and on/off switch.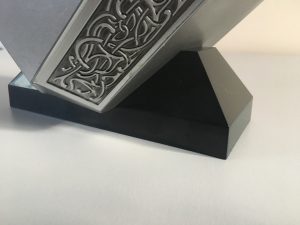 With them in their current location they are on prime display, breaking up the realism of the hammer instantly. I can't see why both couldn't have been incorporated into the handle, hiding them in the details of the grip! Finally (last moan honest) the voice recognition is odd. Supposedly, when you speak the name of Thor, the rune of Odin glows mysteriously. Unfortunately the magic is spoilt slightly as the hammer only recognises my voice when I say "Thor" in the campest tone possible! A good giggle but perhaps not the intention.
Despite the setbacks, I do enjoy what Marvel Legends have produced. As a desk toy & shelf candy it is a must have for Thor fans and as a cosplay item it'll easily out class any of the lower budget options. If you see it on sale, absolutely snag one, but if you end up paying full whack for this mighty smasher you will not feel short changed.