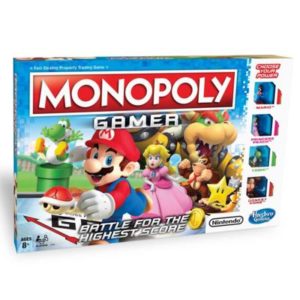 There are far too many branded variations for us to share a specific number, the amount of times Hasbro has made minor re-tweaks to the property trading game is also many. The last few years have seen them simply try and reignite the game in the nations psyche with various token voting campaigns – this Gamer game is a step-change however.
Teaming up with Nintendo the Monopoly Gamer edition adds the gaming characters we all recognise but more importantly new twists to the actual gameplay.
The basic scenario remains, rush around the board to buy up property and increase your stash but the terminology is all gamer like, and we love it. So it is all about completing levels (buying property like Bowsers or Princess Peach's castle) and collecting coins (cash) which either comes from the bank or from your use of special powers to take it from other players.
Along the way, playing as characters including Mario, Donkey Kong, Princess Peach and Yoshi each has its own power-up ability. So, if you land on the a Super Star board space in Princess Peach's case she'd collect rent on all her properties from the bank, Mario gets to roll the power-up die and collect that amount of cash from the same financial institution.
This power-up die also acts differently depending on which character is rolling adding another level of Nintendofication to the gameplay.
The coins come in two values, five or one, keeping the counting simple and that severe mix up of multi-coloured cash piles a distant memory .
At the passing of GO players pay to start a boss fight, there are eight to be defeated by rolling the die and the entire game comes to an end when a player defeats all eight – the final battle being against Bowser. The cash is then tallied, the victor is the player with the most cash who can then flip the playing surface and make their winning lap around the room.
The standard Gamer edition game will be available from 1st August and, you can take it to yet another level with Monopoly Gamer Power Packs which include one of several Super Mario character tokens including Luigi, Boo, Rosalina, Wario and Diddy Kong each of these playing pieces bringing new in-game power-up abilities.
There is no other news today, likely not for the rest of the week, all calendars lead to August 1st.