Start your turbo jets and stock up on lazer bolts as London becomes the epicentre of all things nerd! Yes, Comic Con 2019 is here and it will be staying until Sunday 27th so if you haven't got your tickets yet, why not?! The halls opened at 10am sharp this morning to the heaving assembled crowds all desperate to snag Con-Exclusive memorabilia, meet their superhero idols and show off their latest Cosplay.
This is no new occurrence. Your seasoned geek will tell you that England's Capital has been host to Comic Con since 2004. As a result this is a slick event with vendors touting rare items and big toy companies such as Hasbro and Bandai having a huge presence. The next two days will see these global giants unveil brand new products that'll be available for purchase before Christmas so, if you're still searching for that perfect stocking filler, keeping an eye on the socials would be a shrewd move.
The big draw for many visitors though is the constant parade of fans bedecked in all manner of awesome cosplay. From thrown together homages to intricate suits of armour, the passion for  comics, video games, movies and TV shows is palpable and the energy is a glorious mix of love and support.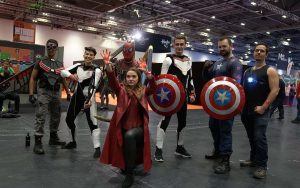 So, if you're not already heading down to the ExCel Centre in South London, it's totally worth the price of admission. Come snag a new plush, get a photo with a Power Ranger, whip on some spandex and strut your stuff!