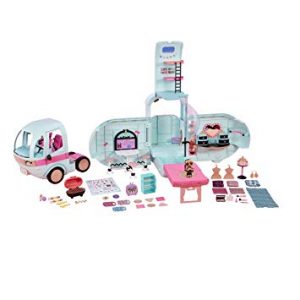 Let us be clear from the outset, we really do love what L.O.L. have done for the toy market, how they created a cracking new toy category, underpinned a sometimes struggling toys market, 3 out of ten toys sold are at this pocket money/collectible level right now – Thanks MGA, but….. Now we know it is really big and clever to create a highly collectible series then bring a place for these collected items in which to dwell, the big ticket purchase, a house, camper van, branded box perhaps but when the prices of these items start to make your eyes water due to them being rubbed vigorously after seeing the price tag it is perhaps time to reign in the range expansion….
We've just leafed through FOUR pages of LOL in the Smyths catalogue, just under a £100 for the Glamper van (on many top retailer toy lists) which included ONE exclusive doll and 55+ surprises. We then move on to the House, 85+ surprises and over 90cm tall! £170 #gulp. Our very own surprise moment was reserved for the L.O.L. Surprise Chalet Winter Disco – 95+ surprises, 87cm x 92cm and a chimney that "really snows" (plastic balls) and all this could be yours for….drum roll…..£249.99.
That's pretty much the UK average spend per child on pressies at Xmas there, bang, done, gone in one hit for this and we're rendered speechless. Still, they gotta pay for these top celebrities/influencers et al to come to their launch parties haven't they?