Could we be more excited?! You may have thought that you and LEGO were on a break but the behemoth of the toy industry begs to differ. To celebrate 25 years since of our F.R.I.E.N.D.S started filling our screens with reruns, LEGO has unveiled the iconic Central Perk realised in blocky glory. This 1070 piece set comes with (of course) all of the F.R.I.E.N.D.S as minifigures plus fan favourite Gunther giving us a rather impressive haul of 7 characters in one set.
All of this comes at the rather reasonable price of £65 which for a franchise set of this size is a lot lower than previous LEGO endeavour. This new venture is yet another success story from the LEGO Ideas mind-hub and you can see why it was so popular.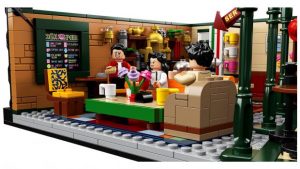 Central Perk is littered with Easter eggs from all of the series and each minifigure has a whole host of appropriate props that you'll undoubtedly recognise. The set measures in at 4cm high by 11cm wide and 22cm deep so it'll be a good desk warmer and not too complex of a build. The famous sofa pops out so you can have an even more condensed display if your heart desires.

The most important factor is this. With Central Perk now an official part of LEGO history you can have your favourite F.R.I.E.N.D  do anything your brain can think up! Perhaps Pheobe attends a Ninjago Dojo, maybe Joey shows up on the Avenger's Helicarrier- why not let Lord Vader put his feet up and enjoy some coffee with Batman? This might well be the ultimate in crossover playsets!