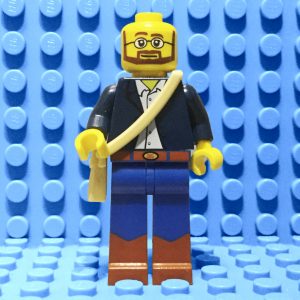 Picking up where last year's volcano series leaves off, LEGO City's newest range invites you to explore the jungle, dodge deadly critters and discover lost treasure… Six sets depict everything from temple ruins to a plane wreck, with a variety of new minifigs, animals and vehicles.
The 'Halftrack Mission'  (LEGO City Jungle Halftrack Mission – 60159) offers a decent amount of play for its 378 pieces… Perhaps surprisingly so if you consider 44 of those pieces make up the eponymous halftracks on the main truck. The other models here are a buggy-like All Terrain Vehicle, and a small temple shrine. This comes complete with an Indiana Jones style trap that flings a spider onto anyone who dares to disturb the ancient gemstone below… Of this I'll only say thank goodness the spider is red. If it were any more realistic it could easily give me the heebie jeebies!
Overall, I like this set. If you see it on the box, then my guess is you'll want to take a look at the brand new panther first. The team at LEGO seems to anticipate this and puts it right there in the first bag of four… Sleek and sturdy, it makes an absolutely terrific addition to LEGO's menagerie: the rear legs and head move smoothly while the eyes and nose are printed with great precision – it just looks beautiful.
Personally, I think the temple itself is a little underwhelming. I'd prefer to see a bigger ruin here, even if that means forsaking the smaller of the two vehicles. I also think the colourful pieces in the middle of what purports to be the temple's stonework detract, and that seems like an easy thing to avoid. My friend Bert cares less about this, though, and since he's eight I must defer to his judgement. We both love the set's minifigs. The two torsos boast a great amount of detail atop a really attractive base colour. Meanwhile, the new double-sided female head is good fun. With an expression of anguish on one side and a somewhat quizzical look on the other, she seems entirely ready to explore the other jungle sets… As are we!
Deej's Overall Rating Out of 10: 7
Bert's Overall Rating Out of 10: 8