It should come as no surprise that the Master Licencee of Star Wars, Transformers, Marvel, Power Rangers and Ghostbusters would make an impact at Comic Con. Their reach may be larger than you expect though as their presence can be felt in every corner of every hall in London's ExCel centre this weekend. Positioned perfectly between the Live Stage, where stars of their various properties chat to fans and the Meet-and-Greet stalls where those same stars take one-on-one pics with those same fans, it almost feels as if the Toy Giant had a pick of plots…
The big attraction for fans and toy-connoisseurs alike though are the product reveals and con-exclusives! So, come with me as I take you around Hasbro's masterclass-in-plastic.
First up, my personal favourite, Power Rangers! Ever since Hasbro gained the licence from Bandai they have been churning out a steady stream of action figures but now sees the launch of their first role-play item. The White Ranger's Helmet. This thing is a beauty! Compared to Bandai's Green Ranger attempt, this feels in a different league. The fit is much snugger, the likeness more accurate and the plastic thicker. I still can't get my head around the price point as it's around £100 cheaper than it's predecessor! The power is with us and our wallets!
*UPDATE*! Hasbro reveals new wave of Lightning Collection!
Bleedin' typical! The moment I drop tools and head home, Hasbro unveil a brand new Wave of action figures. Following on from the previous Waves it is a curious collection from across the various series. Beast Morpher Blue, Dino Charge Gold and MMPR Red all join their respective rosters, filling out the three teams nicely (we'll get a full team one day, i'm sure) but the big surprise was Lord Drakkon himself! A version of Tommy from an alternate dimension that never turned good, Drakkon is a creation from the comics, long after the MMPR series had ended. These will be available from December 30th, so maybe a New Year's treat is in order!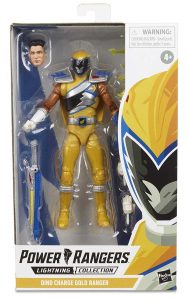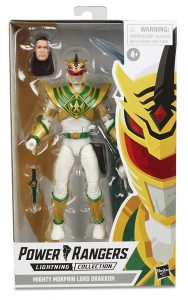 *Update ends*
Now, on to a crossover that I called earlier this year! Transformers meets Ghostbusters. We already covered the transformable Ecto-1, well now Optimus Prime is getting in on the action with a new paint job and a new slimey buddy. If this doesn't get your 80's glands twitching, nothing will!
Did someone say Transformers?! The Siege line continues to impress with this colossal Omega Supreme! He can't be that big?! Yup-he be! Dotted with Siege ports for weapons and explosions to click into he is a playset all on his own with tons of personality and heaps of playability!
Onto some exclusive I think. This years sees Hasbro offering a trio of tough to tackle collectables that you can only get at European conventions. First up is Ceremonial Luke from A New Hope. Not only does he come decked out in his finest garb he has an awesome selction of accessories including a blaster, training remote and sacred Jedi text. Then comes a different dynamic duo. Grey Hulk & Deadpool. Both come with some charming character accurate accessories along with all the detailing and articulation you've come to expect from the Marvel line.
With Star Wars The Rise Of Skywalker just around the corner, it makes sense that The Black Series is continuing to ramp up it's production. We covered a lot of the new toys at The Force Friday Event but what caught our eye was a handful of roleplay items that'll take you right back to a Galaxy a long time ago. Check this helmet good enough for any X-Wing pilot. The Black Series' helmets have always been a treat and the details continue to amaze here.
So, what do you think? Hasbro has promised more reveals over the weekend so we will be sure to keep you up-to-date. As it stands though, we are very impressed with how this toy giant is handling so many properties!