Moose Toys is heading to London Toy Fair for the first time and launching a new collectable inspired by gifs, a variant of online social speak. Oh! My Gif brings the world of digital gifs to life through this new range of collectable characters each with surprise movements.
The characters go by the name of GifBits and physically replicate the looping movement of some of the most popular gifs around. Each GifBit is revealed once opened and the packaging then turns into a photographic backdrop. And there's more, each Oh! My Gif pack contains an augmented reality card which kids can scan using the Oh! My Gif mobile app – this unlocks a digital version of their GifBit!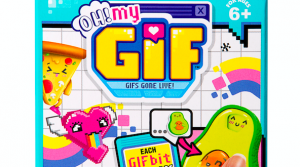 With over 50 characters in both physical and digital form from launch this range looks well set to be a sell-out when launched in May, tapping into multiple zeitgeists simultaneously. The folk at Moose pretty much kick-started the collectible scene with their $5bn smash hit property, Shopkins.
"Moose is super excited to get this toy into the market and into the hands of kids," said Ronnie Frankowski, chief marketing officer at Moose Toys. "We are incredibly proud of the team behind this brand and how they continue to disrupt, innovate and push creative boundaries in the collectible aisle."
Moose has created a unique, theatrical FSDU (free standing display unit pub quizzers) for retailers. It features a 'try me' function for customers to experience the looping movements first-hand, whilst offering a free AR scan on the front of the unit to unlock an exclusive character to download.
RRP – £4.99 from May