You've likely never heard of a place called East Aurora, New York,but it is home to the toy company who have brought us some of the most iconic playthings of the past century. Fisher-Price celebrates 90 years of making play today – Creators of the Chatter Telephone,Corn Popper and theLittle People have put their passion for playthings into almost 5,000 different toy-lines since they began back in 1930.Here's way too many facts about them but at least one will serve you well in a) a pub quiz b) dinner party when the conversation runs dry or c) the answer to the big one of who wants to be a millionaire.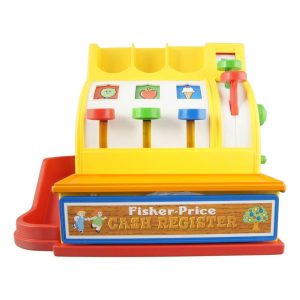 In 1930, Herman G Fisher, Irving L Price and Helen M Schelle founded Fisher-Price in East Aurora, a small village in New York State where the company HQ is still based.
Herman Fisher's background was in selling, manufacturing and advertising games from a company in Churchville, New York.
Helen Schelle was owner of the Penny Walker Toy shop in Binghampton, New York.
Irving Price was the mayor of East Aurora and looking for an investment opportunity to help the local community find some financial stability during the midst of the Great Depression.
In their first year, the team produced a line of 16 toys which were collectively called the 16 Hopefuls to represent optimism during these financially uncertain times.
Doodle and Granny Doodle were part of this range, an innovate pair of pull along ducks with moving beaks who quacked.
The company has created more than 5,000 types of toys since they started out in 1930.
This tenacious trio employed a majority of the population of East Aurora to help meet demand in the early 1930s.
Ponderosa pine was the material of choice for the early toys, a wood that resisted splintering and was able to handle rough treatment from young consumers.
The first Fisher-Price playset was the Big Performing Circus, jointly designed by Margaret Price and Helen Schelle.
Fisher-Price headquarters is still based in East Aurora, Erie County, New York. For over 20 years, the HQ served as both manufacturing plant and business office.
The founders reasoned that good toy-making must be based on five fundamental principles; "intrinsic play value, ingenuity, strong construction, good value for the money and action".
In 1934, a 20-piece wooden block set formed part of a new line of "Preschool Toys" a term coined by the mother of founder Herman Fisher who helped design the line using her experience as a teacher.
In 1935, Fisher-Price created Mickey Mouse Band and Popeye products which were the very first toys to ever be licensed.
A pop-up Pluto toy helped the company make its first profit in 1936.
Fisher-Price developed toys to be a year-round business with the introduction of Easter toys in 1936.
Co-Founder Herman Fisher shared these profits with the employees in the form of silver dollars.
Serve 20 years at the company these days and you'll be rewarded with one of these silver dollars.
More than 5 million Snoopy Sniffer pull-along toys were produced over the course of its inclusion in the Fisher-Price line-up for 44 years with more than 5 million toys sold!
A popular dog name at the time, the Fisher-Price Snoopy pre-dated Charles Schulz's famous Peanutscomic strip character by 12 years.
Starting in 1942, the company stopped making toys and started fulfilling defence contracts for WWII. Items manufactured included aircraft parts and medical supply crates to supplement equipment taken into combat.
After World War II, veterans returned home, they created a housing boom and wood became even scarcer which made manufacturing for Fisher-Price more difficult
A form of plastic called Acetate was used for the first time in 1950 and formed the spinning wings of the Buzzy Bee
A new logo was introduced in 1956 shifting significantly away from the previous text-only based one to reflect the playfulness of the brand.
Long before men visited the moon, the Space Blazer toy landed on our planet – complete with spring antenna and bell to warn off the impending arrival of the toy Martian inside.
The classic Xylophone and Snap-Lock beads first made an appearance on shelves in 1957.
The iconic Corn Popper, the two-wheeled contraption which bounces balls around in a dome with its unmistakable analogue soundtrack, was invented in 1957 by designer Ralph Crawford.
The Corn Popper is the longest running production toy across the Fisher-Price portfolio. Fisher Price was growing so fast that didn't have enough space in the warehouse, so they rented space at local dairy farms, but one of the barns burned down and quickly East Aurora was covered in Corn Poppers!
The original Little People were affixed to their toys but the arrival of the Safety Bus in 1959 saw chunky-headed characters you could take out – the driver however had to stay put.
In 1959, the Fire Truck had run its course and the designers started to notice during testing sessions (pre-official Play Lab) that children would try to remove the round heads from the fire truck, but they couldn't as they were permanently attached. This led to the decision of taking the round headed concept out of the trucks and make full bodied figures out of them, which became known as Little People figures.
Originally called 'Fisher-Price Play Family' they were changed to Little People at the request of consumers asking for this catchy name instead when they came into stores looking for the 'little people'.
Over 2 billion Little People figures have been sold to date.
 An original Push Cart Pete, Fisher-Price No. 740 from 1936 fetched $8,000 at auction in 2009.
The time-enduring Rock-A-Stack toy makes its appearance in 1960 and has been entertaining kids ever since remaining a best seller across the world. In 2020, Rock-A-Stack is 100% recyclable and made from Sugar Cane as part of the company's move to fully recyclable toys across its portfolio.
Herman Fisher devised his own method of testing toy durability before US government testing regulations were introduced. As a tall man he had an even taller desk and so would drop the toys from the height of its surface to ensure the toys' sturdiness.
He also gave toys to local families with kids to test at home. After a few weeks, they'd return with their feedback which would be implemented into the final design.
Initially, toys were tested in the boardroom with local children viewing through a door window.
This progressed into an on-site program complete with observation room and has continued to develop throughout the years.
The pre-testing of new toys at Fisher-Price HQ was formalised with the introduction of the Play Laboratory – the first toy testing lab of its kind. This is still an important part of the design process to this day.
The Play Lab came about because Herman Fisher's mum was a preschool teacher and Herm was inspired by her work and interested in observing children playing to better understand what inspired further exploration in kids. So, he decided to split his office and used half of it to observe kids as they played.
Fisher Price today has more than 15,000 sq. ft. of research facilities on campus and continues to test each and every toy that hit out shelves.
The Play Lab hosts around 2,800 children and 1,850 parents each year and sessions hosted by Ph.D or Master's Degree qualified childhood research experts.
Fisher-Price is always recruiting new toy testers.
In 1961, designers noticed kids enjoyed pulling the Chatter Telephone with the receiver in the Play Lab, and so wheels were added along with the iconic rolling eyes.
It has been the first phone owned by over 27 million people.
The Chatter Telephone is the only rotary dial phone currently manufactured anywhere.
It was initially called the Talk Back Telephone but changed soon after production began as parents didn't like the idea of kids "talking back".
Chatter Telephone appears in Toy Story 3, voiced by Disney Pixar studio artist, Teddy Newton.
The Corn Popper also makes a brief appearance in the same film.
Global brand Quaker Oats acquired the Fisher-Price company in 1969.
With the financial clout of Quaker Oats, Fisher-Price expanded and developed advertising campaigns which increased sales from $50mn to $600mn within a 10-year period.
Both the Fisher-Price TV-Radio and Music Box Record Player came along in the mid 70's – These music-making systems saw the company become the biggest importer of Swiss made music boxes.
Keeping up with major changes in the industry, in 1979, Fisher-Price introduced electronics just for kids. The innovative, solid state Fisher-Price Phonograph was introduced as the finest child's phonograph on the market. This modern and innovative take on toys, found their way into even the most basic toys, animating the play action in a whole new way.
On the 3D printing site, Instructables, there are instructions of how to print your own copy of Stairway to Heaven, The Star Wars theme tune and You are my Sunshine to be played on the Fisher-Price Music Box.
Starting in the 1980s, seven videogames carried the Fisher-Price name for both the PC and Commodore 64.
The Fisher-Price PXL-2000 camcorder targeted teenagers during the camcorder craze of the late 1980s and retailed for $100.
It recorded images onto an audio cassette tape, the sketchy image produced a filter that was embraced by artists and filmmakers and dubbed "Pixelvision"
In 1984, Fisher-Price unveiled their new range of baby gear, now not just a toy company any longer they became a leader in the high-chair, infant swing, baby bath and potty markets.
Entering the crib and playpen category, the brand develops a range of 14 toys specifically for babies including Activity Centre, Happy Apple and Music Box Mobile.
Puffalumps, a plush toy made form parachute material were introduced and sold over 10 million throughout its lifetime.
Introduced in 1990, the Bubble Mower, which pumped out bubbles when pushed along, was inspired by childhood memories of the designer's neighbour and the large plumes of smoke which used to burn from the back of his fuel powered version.
Fisher-Price became an independent company on the New York Stock Exchange in July 1991.
Two-years later the company is purchased by Mattel looking to expand its own offering from older-age toys to the infant and pre-schooler markets.
Kransco Inc, makers of the Power Wheels range of ride-on toys, was purchased by Mattel and joins the Fisher-Price family in 1994.
Action and adventure arrived to preschool toys in 1997 with the creation of a new line-up of non-violent action figures called Rescue Heroes.
Mattel merged with Tyco Toys in 1997, makers of Matchbox, View-Master, Tyco RC, Magna Doodle and Sesame Street preschool toys.
The combined Mattel, Fisher-Price and TYCO preschool toy collection were restructured, and Fisher-Price became the umbrella brand for all their combined preschool products.
Little People had a full make-over in 2013 and introduced multi-cultural characters with distinct personalities to better reflect the kids playing with them.
One of the characters in this line-up is named Eddie, inspired by the son of the Principal Designer at Fisher-Price – the character comes complete with frog, slingshot and red rugby shirt, all things his real-life counterpart enjoyed.
Across the Little People range are characters modelled after employees, designers' kids and people in their lives or even local East Aurora town heroes.
We said happy 40th birthday to the Little People in 1999.
At the end of the 90s, Fisher-Price is recognised by Equitrends as a top ten global brand alongside Kodak, Mercedes Benz and Disney.
Demand for infant toys increased in the early 2000's, so Fisher-Price created a newborn toy category.
The Fisher-Price Jumperoo helps babies stand, jump & explore and has had enough bounces to jump to the moon & back over 50 times since its creation.
A surge in digital devices in the early 2000's had Fisher-Price create the Kid-Tough brand which included cameras, DVD players, video cameras and more – all designed to survive the inevitable drop.
In 2008, Imaginext toys take a walk on the wild side when remote controlled dinosaurs join the pack. Fisher Price has the official license for Jurassic World on the Imaginext range.
Fisher-Price makes the famous Thomas & Friends tracks and trains. The company took over ownership of the brand in 2011 when Mattel acquired HIT entertainment.
Introduced in 2011, the Fisher-Price Kick & Play Piano Gym kicks play time up a notch, inspiring over 11 million kicking feet around the globe.
The Laugh & Learn role-play range was developed in 2004, now selling in over 130 countries and in 39 languages.
As educators and health professionals called for more active play, the company respond with a Smart Cycle, which combined physical exercise on a static cycle linked to an on-screen video game.
Miniature versions of the Chatter Telephone, Corn Popper, Little People and Rock-A-Stack were developed under licence from Fisher-Price and ideal for 'kidult' desktop decoration.
The company has been through a few logo designs over the years and latest is part of a new overall brand identity, introduced earlier this year.
The brand's new tagline is "Let's be kids" inviting grown-ups to 'grow down' and enjoy the wonders of childhood. Renowned American movie and TV star, John Goodman stared in the Let's be Kids brand advert to inaugurate the new campaign.
Fisher-Price introduce a new range of smart interconnected toys that 'talk to each other'; when in close proximity called Linkimals. The toys get your baby moving and learning with exciting lights, music, songs, and groovy dance moves.
Fisher-Price has 99% brand awareness and is currently sold in 150 countries.
Responding to the COVID-19 pandemic in 2020, Fisher-Price has recently released special edition line of collectible action figures and Little People Community Champions called #ThankYouHeroes. All net proceeds will go to #FirstRespondersFirst.