Would Fernando Alonso really consider quitting his £75mn a year contract at McLaren Honda, bookies had him at 3-1 to walk before the new season ends. Its practice time in Barcelona and the first race of the F1 season is on the 20th March. Bernie Ecclestone, the granddaddy of the sport who pocketed a cool Billion has said its now really borting to watch and he wouldn't bother, perhaps he's driving down the value in a bid to buy it back again? It is apparently too predictable, unlike his comments that Vladimir Putin should be running Europe, an interesting idea. So, as pre-season testing of these multi-million pound cars gets underway here's our podium of F1 playthings.
A career in the pit lanes really can't be so bad, decent dough on offer, travelling the world, tuning up fast cars, sounds like a dream job. Start those engineering studies early on with this fully motorized V8 shrunken replica, build-it and watch it spark to life.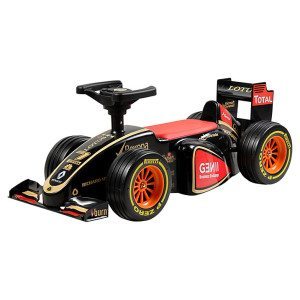 If you're over 25KG you're not going far on this, but if you've a young wannabe driver, stick them in the driving seat and they'll travel at 100 smiles an hour. A very decent looking piece of kit, we might just get one and put it in the office window.
The Danish brickmaker have a partnership with McLaren, Porsche and Ferrari and have created a superb line-up of cars and sets for racing fans. The McLaren Mercedes MP4-29 pitstop set, complete with three minifigures really revs our engine as does the Ferrari Scuderia F14T team with four characters and big red lorry.
Scalextric does come in for a bashing on occasion that it's stuck on the starting line, those bashers havem't experience the ARC One racing system and should zip it until they do. Working alongside an iPad racers can choose from half a dozen race formats, add pit stops, do racing starts, check reaction times and compare top speeds. Later this year the new wireless controller version arrives with us, ARC AIR, that too is also quite superb.