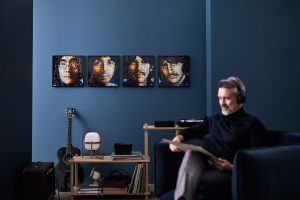 These LEGO sets have just been announced and they do really look rather good. Offering up another strand in the adult portfolio for LEGO they use blank canvases (aka base plates) for you to create your own works of art. Each LEGO Art set comes with a bespoke soundtrack that'll feature anecdotes from the creators of Iron Man and Star Wars, those closest to the stories of Andy Warhol and the Beatles plus soundtracks to listen to as you dive in and build. £114.99 isn't cheap but they are stand-out pieces, time for a midweek LEGO based treat?
Andy Warhol's Marilyn Monroe – Pop art admirers can recreate the bright pink screen-print of Marilyn Monroe from 1967, or reimagine it in three different colours using the LEGO tiles.
The Beatles –John Lennon, Sir Paul McCartney, George Harrison or Sir Ringo Starr can each be created, but, ultimate Beatle fandom can only surely be justified by grabbing all four – "Help, I need more money".
Marvel Studios Iron Man – Power up with a set that lets you create the MARK III, the HULKBUSTER MARK I or the MARK LXXXV with this 3-in-1 set – grab three sets create the ultimate Iron Man artwork.
Star Wars The Sith – Each single set lets you build a portrait of either The Sith, Darth Maul, Darth Vader or Kylo Ren – buy three and create an ultimate Darth Vader wall piece (pictured).
Whilst the price might deter at first there's no denying these'll look great on any wall/shelf/surface and we're certain that this represents just the beginning of a cast of, well not thousands, but getting towards a hundred characters.