Have you ever wanted to do an escape room, but you don't want to a) go outside or b) pay a lot of money for a stranger to lock you in a room? Then you're in luck! Because you can sort-of get the escape room experience in the comfort of your own home. Assuming your home is comfortable, of course.
One such option for the at home escape experience is Exit: The Game, who promise strategy, riddle solving and an escape room experience. They have multiple games in the series, each with a differing theme and difficulty but all working in essentially the same way – a booklet, cards, clues, a spinny decoder disk which enable you to solve the puzzles, and a storyline to escape/survive.
Getting right to it, these games are fun. The puzzles are inventive, varied and challenging. When you're in a venue these things are easy to achieve, but when limited by components such as cards or a booklet, you could easily get stuck doing repetitive puzzles. Thankfully the only repetition is that you are always looking for a 3 digit code. They also do something you could never get away with in most escape rooms – destroying things. It seems crazy at first but some puzzles are impossible to do without a bit of creative folding or cutting and it adds a unique element to the game.
The only real issues with Exit really are of their own making. It's harder to play with more than 3 people, as you are often all looking at the same puzzle, and as with some escape rooms, the difficulty levels are often ramped up not with complex puzzles, but slight leaps in logic and as much as they try to, they don't quite replicate the buzz of doing a real escape room.
Honestly though, these can be overlooked. If you get a small group together you'll have a great night playing some puzzles. So, which one should you choose?
Abandoned Cabin
One of the original games in the series, with well balanced puzzles. It's easy enough to complete whilst still giving a challenge, and gives you an idea what to expect with the rest of the series. Storyline is very loose, just some blurb and the start and end but that's all it needs. Enjoyable.
Dead Man on the Orient Express
Very different from the other games, less escape room and very much a murder mystery. The story and puzzles are heavily themed around this and it really benefits from this. Lots of good puzzles, parts to open, things to find and a nice end game challenge.
House of Riddles
A great game to do with a young family and has relatively clever puzzles throughout. A very linear story as you follow the booklet through the challenges.
Forbidden Castle
My least favourite with frustrating, confusing puzzles littered throughout the game. Tries to build on the storyline from the cabin but the game style feels entirely different.
Haunted Roller Coaster
A linear game with some lateral thinking needed. Box suggests ghost train, but it leans towards childish instead of creepy. That being said, has some innovative puzzles in the box. Not overly challenging, fun to play.
Secret Lab
Some vagueness and mental gymnastics in the puzzles combined with a bit of repetition in the decoding let this one down, but it's still decent to play.
Sunken Treasure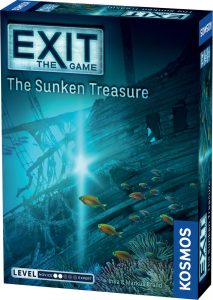 Simple, linear and aimed at the novice and beginner level, this is the easiest game in the Exit game series. Puzzles are not overly taxing but there is enough to do and it's a great intro game for people who may be unsure if they can solve a few riddles!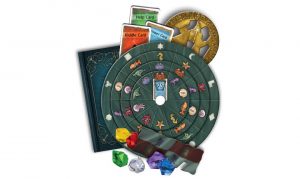 Catacombs of Horror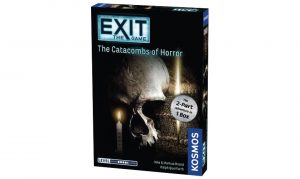 A two part adventure with an in depth theme. The puzzles and riddles feel really different to the other Exit games and because of this creativity when they work, they are some of the best puzzles in the series. Unfortunately, they also have a few which just don't work well. Clever and complicated, this is a good addition but not one for beginners.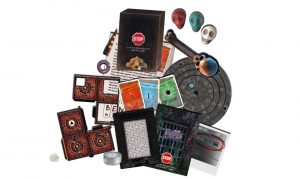 Other games available: Forgotten Island, Sinister Mansion, Polar Station, Pharaoh's Tomb and Mysterious Mansion.