It's here. Episode 8 is finally here! The build up to Rian Johnson's The Last Jedi has been long and painful but with Luke, Rey, Kylo and the gang gracing the silver screen this week we're feeling the force! So much so we thought we'd put together a list of stuff to satisfy even the most hardcore of fans. So strap in. Chewie, punch it!
Star Wars Death Star Pinboard
£10.99 www.truffleshuffle.co.uk
The perfect solution for the Sith Lord that wants to keep their receipts and wedding invites organised, whilst also declaring their allegiance to the dark side. It even comes with 12 Tie Fighter pins meaning there's no end to the Star Wars fun  even when the board is more crammed than a Mos Eisley cantina.
Star Wars Force Link Starter Playset
£24.99 www.amazon.co.uk
Like playing with action figures but can never get the quotes right? Worry no more as Hasbro's new 'Force Link' straps to your wrist, connects to over 30 toys in their range, and belts out phrases and sounds! Once you're playing with realistic whooshes and thrilling explosions, you'll never want to go back!
LEGO Star Wars BB8
£69.99 www.amazon.co.uk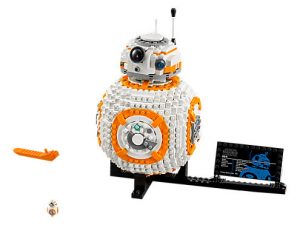 Ever wanted to build a sentient sphere out of plastic bricks? You have!? Well, why not snaffle up one of LEGO's latest droid offerings? Featuring some rather snazzy internal mechanics, this BB8 can not only rotate his head, but can also recreate the now famous 'thumbs up lighter' scene. An entertaining build and new best friend all in one!
Propel Star Wars Battle Quadcopters
£149.00 www.amazon.co.uk
Choose your side and take to the skies! Pilot either the X-Wing, Tie Fighter or even Speeder Bike with Propel's impressive drone line up each armed to the teeth with laser dog fighting capabilities. Granted you're gonna need two of these (and at least one friend) to get the full use out of them but the sturdy designs and awesome box presentation make for a satisfying flight even if you're going solo.
Lenovo Star Wars: Jedi Challenges Augmented Reality Headset
£199.99 www.currys.co.uk
Space age tech meets space age storytelling with this smart phone enabled, AR headset and Lightsaber! Battle a myriad of Siths or play a round of Holochess within your own living room with a fantastic heads-up display and a sabre hilt that vibrates with every hit. If you're looking for a new and ground breaking Star Wars experience, this is your best bet.