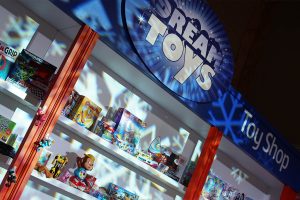 Toyology's own Toyologist and Toyminator deep dived into DreamToy's 2017 Christmas event earlier this week. The central London event, packed out with the most sought after toys, Santa on hand (seemingly awake early from his annual nap) to guide us through the list. Surprisingly, he didn't seem at all phased by the sheer amount of high-tech playthings on display.
DreamToys state that, "More than 60% of consumers buying presents for children this Christmas are likely to rely on lists like DreamToys." Their Committee's Chair, Gary Grant suggested that the list "  Demonstrated the creativity of the Toy Industry and the Magic of Christmas with price points to suit all budgets."
So, here it is, DreamToys's Top Twelve Toys for Christmas, with our thoughts tacked on for good measure, do you agree?
Enchantimals Playhouse Panda Set, £32.99
Good price point, good accessories. For fans of the series, it'll go down very well.
Fingerlings, £14.99
Great intro into the 'Robotic, bestfriend' Market. Good Price point, could be a good surprise gift for a child that has no prior knowledge of the product.
FurReal Roarin' Tyler, £134.99
Big price, well earned when compared to similar products. If this has been asked for by your child, if won't disappoint.
Hatchinmals Surprise, £74.99
They're back and in a two-pack. If you missed last year's limited stock, this is a great way to win back some favour. The price is very nice considering the single Hatchimal comes in around £50.
Laser X- 2 Player Pack, £49.99
Check out our review here: RIGHT HERE.
O.L Surprise Series 2, £9.99
Stocking filler. Will entertain them as they open it. Longevity-wise? I'm not so sure.
Nerf Nitro Longshot Smash, £21.99
Worth the money. Only entertain the idea if you have laminate floorings of tables you're not too precious about.
Paw Patrol Sea Patroller, £69.99
It's been cropping up on every 'Top (something) List'. Having had a hands on, I'd say it's a good buy for any parents that have Paw Patrol fans in the family. A smidge over priced for me but as a main gift, it will do the job.
PJ Masks Headquarters Playset, £49.99
Feels slightly lacking. If your little one has the rest of the PJ Masks' vehicles then the playability of the set will increase but, when compared to the other playset on the list (Enchantimals) its feels about £10 overpriced.
Lego Star Wars: BB8, £84.99
The Toyologist loves it, I'm not sold. For my money I'd say that after The Last Jedi has been released the big Lego item will be their First Order Heavy Assault Walker. Granted it's £40 more expensive but it has more longevity in its play value.
The Original Stretch Armstrong, £21.99
Good. Get it for kids up to the age of 29 and you'll have the added nostalgia value. Good amount of toy for the price.
Toilet Trouble, £17.99
Ugh, a dull game that just relies on a fairly sedentary 'Gross out Gimmick'. It'll be played with and discarded by New Year, mark my words. A better board game, for around the same price, would be 'Spin To Sing' or 'Giggle Wiggle'