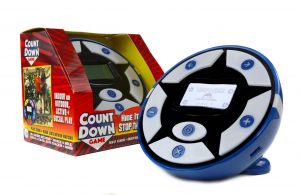 Duck, Duck, Cat (not sure if that is an order) have at last released their Countdown Game, we've been playing with it for a while now and, after fine tuning it's now available for you all.  This here Countdown Game features ten different ready to play, retro-inspired reflex, logic and movement games including Whack-a-Mole, Simon Says, Safe Cracker, Odd-Man-Out and Cut The Wire(no, we don;t know that one either). It also incorporates an innovative update system to provide new features, play modes and games over time. At launch, two additional games, Red Light/Green Light and Animal Sounds, are provided for free to download upon purchase. We love that The Countdown Game includes a configurable difficulty setting allowing for a broad range of play, to get kids and families actively gaming together from adult/child play to early or avid gamers. Have a watch, tells it far better than we can :
"The Countdown Game is needed by so many children, and parents, right now" said Alex Andreae, founder & CEO. "After an incredibly challenging year with children unable to socialize and engage in-person, active play is more important than ever. We're excited to bring a game to market that encourages active, engaging play for families and friends."
According to Valerie Vacante, Director of Strategy at LiveArea, Founder, Collabsco,"Families are looking for new ways to stay active and entertained together; the continued growth in outdoor sports and active play (+29%), puzzles and family games (+32%), retro-gaming (+30%) and Interactive Fitness (+8%) will continue to drive innovative play and gaming experiences. 
Vacante states, "Parents today grew up playing Hide-and-Seek, Red Light, Green Light and Simon Says; they played with Nerf blasters, Pogo Balls and rode their bikes almost everywhere with their Nintendo Game Boy in their pocket or backpack at all times. Parents are seeking comfort in nostalgic experiences that they can share with friends and family while creating new memorable moments."
"The Countdown Game brings together everything that we love about active play, tabletop puzzle play and handheld retro-gaming to get families actively gaming together," said Vacante. Named a "Top Summer Toys 2021" by The Toy Insider's Spring & Summer Toy Guide, The Countdown Game is packed with a graphical display, over 50 sounds and animations, 6 game buttons, motion detection and 8 ultra-bright full-color LEDs for immersive engagement. It also includes a USB port for updating modes, games, graphics, sounds with new features to be released regularly. The Countdown Game features a total of 12 retro-inspired active play games across 4 distinct play modes and is available exclusively on Amazon and DuckDuckCat.com for $39.95.