Everyone was looking to replicate the runaway success of the 2015 party game title Pie Face this year, Hasbro today announced a record earning, all time best ever turnover for Q3 this year, helped in no small part by the virality of some of its wares. Early this year they scored a hit with a YouTube mum with her Chewbacca mask that then made national TV in the US. Now it appears to have another success on its hands with Speak Out, a simple enough idea, loads of cards with phrases on to be guessed by your team mates, the only snag that you have to wear a mouth-altering device before repeating them. Thus far the game has appeared on the James Corden Late Late Show with the big man and, Melissa McCarthy & Kristen Schaal all donning their mouthpieces and hilarity ensuing. This product pick-up was on the back of another viral hit (42 million views and rising) of another mum, Barb Hamm, on Facebook, sharing the gameplay with her friends and family.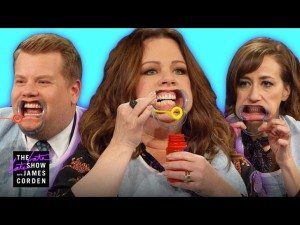 With plagiarism the very much disputed ultimate piece of flattery the Hasbro folks might be just a touch miffed that Shout Out has inspired at least four other variants, sorry blatant copies, of its game listed on Amazon. Whilst the cards inside are likely to vary very slightly in content, the names of them at least have a modicum of creativity but the mouth-pieces, the key part of the entire party game look almost identical – Could these have not been patented? Am thinking a submission to the patent office of "plastic insert that when inserted into the oral cavity renders almost all words unfathomable" – Guess not. Anyway, here's a couple of the ever-so-similar games you can get if paying a premium on eBay isn't your bag – For our money though it has to be the original every time.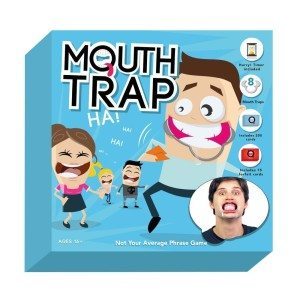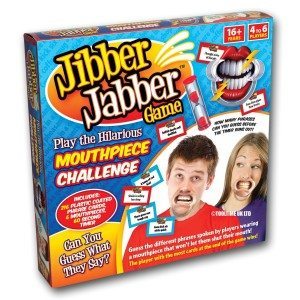 Jibber Jabber – £19.99
Contents: 6 Mouthpieces, 200 plastic coated cards and timer
Big Mouth – £21.99
Comes with 4 x Mouthpieces – 200 x Phrases – 1 x Timer – 1 x Rule Book
Mouth Trap – £14.99
Includes 8 mouth traps, Loads of Phrase cards and 15 forfeit cards
Watch Ya Mouth – £14.99
The Speak Out game includes 160 double-sided cards, 5 mouthpieces, and a timer
There is also a pretty big eBay market where you can just buy the mouth guards and/or extra phrase cards and create your very own version – We're calling ours Speak Mouth Jibber – Mmmmm?