Time to slam your head on your desk, the top toy lists are incoming, the retailers are off the mark once more and yet again it is Argos leading the way. For 2018 they've gone for a list of 13 playthings tipped to be part of the under tree pile this Yule, their list is billed as "exciting and highly anticipated" and comes complete with some research into toy buying habits. They tell us that 4.7 million Brits have already started their Xmas shopping with almost half a million 16-25 year olds completed their shopping for the festive season, hmmmm. Described as "eclectic" the list has three fingerlings, the obvious inclusion of Paw PAtrol, NERF and LEGO, some unicorns and an LOL surprise plus their own Tiny Treasures doll from three years ago. Overall the list is just fine, nothing to make ones pulse quicken, Boxer the robot (a cheaper version of Cosmo by ANKI) is a good inclusion, the Ride-on Unicorn is stand-out too….So, without any further ranting, here it is in its totality/verbatim :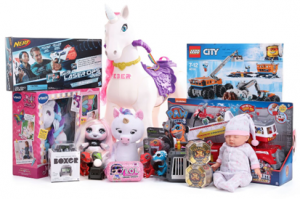 Top Toys 2018
Chad Valley Tiny Treasures Doll 
The Chad Valley Tiny Treasures Doll looks, feels and even smells like a real baby! Baby's eyes are always closed and when you hold the baby close you can even hear the heartbeat. This realistic doll comes ready for bed with its own bunny comforter and fleece blanket.
Vtech Fantasy Unicorn 
The unique Fantasty Unicorn comes with an animatronic wand and colour palette which allows you to change the colours of the unicorn and digitally apply makeup. The interactive toy responds and lights up as you apply different colours.
Paw Patrol Rescue Fire Truck Playset 
Paw Patrol's Ultimate Rescue theme continues with the Ultimate Fire Truck. Packed with features including an extendable ladder and device to fire things from, it is also big enough for you to all of the characters in it and can also interact with other vehicles in range to make an even bigger machine.
Fingerlings Hugs 
A bigger version of Fingerlings, the Fingerlings Hugs are extremely interactive and have the ability to record your voice, talk back and even kiss you. They are receptive to movement and know if you are cuddling, swinging or even dropping them!
LOL Surprise Under Wraps
Unravel 15 new and exciting layers of surprises with the first ever cylindrical LOL Surprise.
Poopsie Unicorn Surprise
Combining all of 2018's biggest trends (slime, glitter, unicorns and poo) Poopsie comes in four different colour ways and comes complete with a unique bottle, glitter and a white powder which when combined together and fed to her forms a surprise glittery unicorn poo!
Fingerlings Untamed T-Rex
Make them walk, fart or calm them down, these interactive dinosaurs have a life of their! The dinosaurs are innovative and collectible.
Fingerlings Untamed Dino Cage
Collect your Fingerlings and make sure they don't escape in the Dino Cage which can be expanded and taken apart depending on how many T-Rex's you've collected.
Nerf Laser Ops Two Pack
Laser tag takes on another dimension with the first ever wireless version of the game. Sync the Nerf Laser up with your phone and track your score and your opponents score via the app. The game can also be played without a phone / an app.
LEGO City Arctic Mobile Exploration Base 
Perfect for young explorers the Arctic Mobile Exploration Base features a crane, trailer, platform, mobile saw, lab and a snow bike, plus 6 LEGO minifigures: 4 arctic explorers, an arctic expedition leader and a driver, plus a mammoth figure.
Boxer
Boxer is the latest interactive robot with a personality that evolves over time, Boxer responds to touch, motion, gestures and sounds. He can even tell you how he's feeling with his eyes and has a variety of different games that can be triggered by rolling him over certain cards – the cheeky and mischievous character will even play football and chase a small ball around.
Treasure X 3-Pack Chest
Treasure X is the latest collectible craze, open a map which helps to determine what you are set to discover and then you can begin to chip away at the block and find components which will help you create a figure. The real treasure is that 1 in every 50 has a piece of real gold or a real diamond hidden inside.
My Lovely Unicorn Electric Ride-On
Go on a magical journey and race ahead with My Lovely Unicorn, a powered ride on Unicorn with a brush-able pink mane and tale and multicoloured reigns. The 4 easy-glide wheels will make for a smooth ride and are perfect for both indoor and outdoor use.